News
video games
20 September 2023, 12:05
Starfield is Bethesda's Biggest Launch to Date [Update]
Starfield is immensely popular. The new IP in Bethesda's portfolio received the best score of all the studio's releases to date.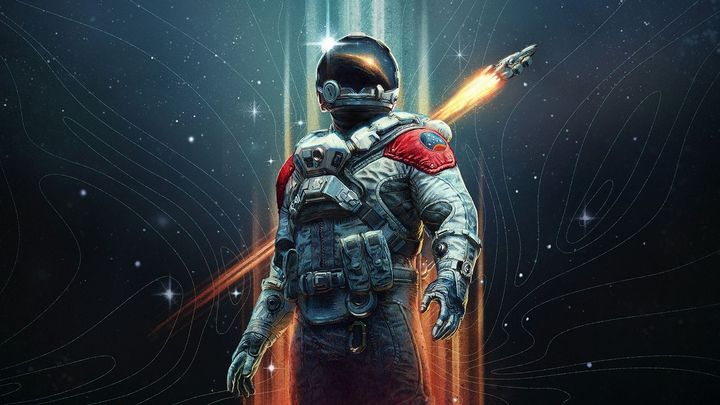 Source: Bethesda Softworks
i
Update
As reported by Bethesda, Starfield has already been played by 10 million players. It's the absolute record-holder among ithe studio's games and one of Microsoft's biggest launches ever - Forza Horizon 5 did better, for example, achieving a similar result a week after its debut (Starfield needed two weeks to do so, counting from the official launch on September 6).
Original news (September 8)
Bethesda has considerable reasons to be pleased. The developers known for such series as The Elder Scrolls and Fallout have delivered another hit. Starfield - the title in question - is admittedly a very fresh game, but it has already managed to win the hearts of a multitude of players.
What specific numbers are we talking about? A post shared on the game's official channel on X/Twitter, reveals that the new RPG has already been played by 6 million players. This is the best launch result for any title from Bethesda's portfolio.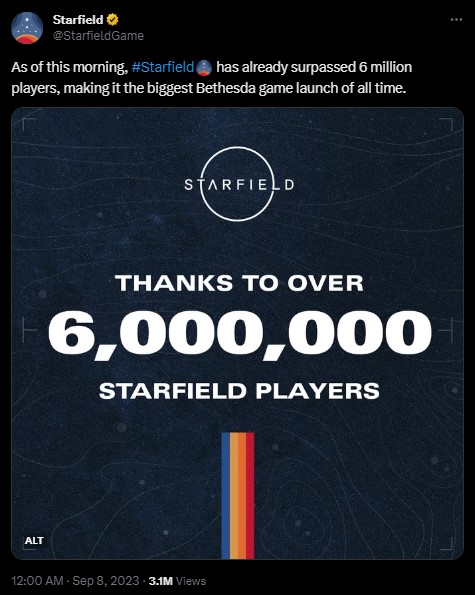 Source: X/Twitter, @StarfieldGame.
Forza Horizon 5 also beaten
As announced by the head of Xbox, Phil Spencer, Starfield's launch also beat the result of Forza Horizon 5, which gained 4.5 million players within 24 hours of its debut. After the first week, the racing game had 10 million users. There are many indications that it will also manage to beat Bethesda's space RPG.
Interestingly, popular industry leaker Okami Games suggested even that Starfield is the biggest first-party game launch in Xbox history. Nevertheless, this has not been confirmed by Microsoft.
Recall that Starfield is extremely popular not only on Xbox Series X/S consoles, but also on PCs. On its debut day, the RPG was being played by by as many as 295.5 thousand people on Steam. Considering that we are talking about the middle of the week, the result is really impressive. Especially since the game is, after all, available from the beginning on PC and Xbox Game Pass.