News
video games
29 September 2023, 14:36
Your Starfield Character Constantly Overencumbered? Todd Howard Blames You
Todd Howard, in a podcast, admitted that a ton of junk were intentionally included in Starfield to give the players freedom of choice. Bethesda's boss added that players were doing themselves a "disservice" by picking up every item available in the game.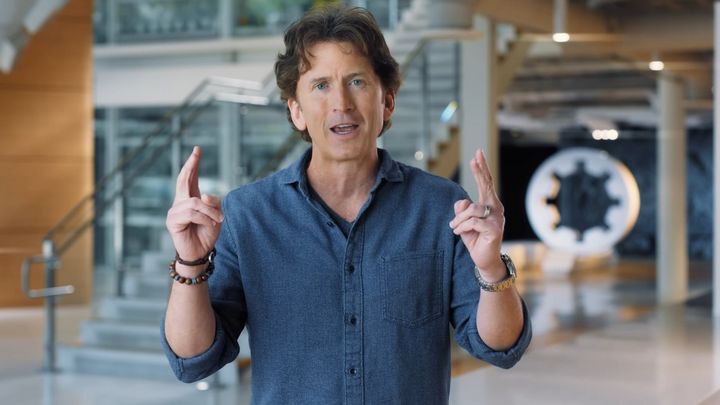 Source: Bethesda Softworks.
i
Bethesda's recent hit - Starfield - is filled to the brim with items that the player can pick up and transfer to the inventory. For this reason, many players - especially those suffering from hoarding syndrome - on space adventures often fall victim to problematic overload.
Collecting cups, surgical forceps and other items in the flippant hope that these might come in handy later is the order of the day in Starfield.
When after a while it turns out that most of the objects encountered in the game world are just junk, the player asks himself: why did these useless objects even end up in the fame?
The answer to this question was brought by Todd Howard, who in a podcast with Ted Price from Insomniac Games took a moment to discuss the philosophy behind Bethesda's creation of their virtual worlds - which is perfectly illustrated by the example of the discussed Starfield.
"No, you don't need trays and pencils."
Howard admitted that the decision to put a lot of items in the game is actually a matter of giving the players freedom, which he believes is the strength of Bethesda games.
"It's about prioritizing player freedom in terms of where you can go, what you can do. It seems that people always do this every time they play one of our new games: they collect all the stuff. Their characters immediately become overloaded. No, you don't need trays and pencils, but we like that you have a choice - that you can pick them up."
It's worth noting that the problem for most Starfield players however, is not the items themselves, but the way the game signals their usefulness (via GamesRadar).
"I scrape cesium off the walls because I'm worried I'll need it later, and I needed someone to simply say: 'I wouldn't worry about it, man.'"
Howard's words indicate at the same time that Starfield - at least minimally - puts a premium on, let's call it, sandbox-simulator experience. After all, even trivial, seemingly unnecessary items are not entirely useless. We can always sell them - although this may not be a very optimal way to make money in this space RPG.
Fortunately, the character overencumbering system in Bethesda's latest work has been quite interestingly solved and is not as cumbersome as in games in the Fallout series.
While carrying too much equipment in Starfield we can still move freely, or even run - only that then we use up our supply of precious oxygen faster.
Let's also remember that we can store equipment, whether with our companions, in outposts or on our ships. To hardcore lootgoblins (at least on PC), in turn, we recommend numerous mods that will relieve the burden on our character.