News
video games
04 February 2020, 23:31
author: Christian Pieniazek
Watch First 10 Minutes of Doom Eternal
Just over a month before the release of Doom Eternal, a video showing the first ten minutes of the gameplay was released online. Gameplay where the term "bloody slaughter" fits very well.
IGN has released a video on its YouTube channel presenting the first ten minutes of Doom Eternal. Following the example of the devs from id Software, who do not care about long introductions, we invite you to a bloody screening right away.
As the above gameplay proves, Doom Eternal will enable us to shed hectolitres of blood almost immediately after the fun begins. Suffice it to say that the first opponent will be dead within less than five seconds after taking control of the hero. Then there is a quick tutorial that will teach us the operating principles of the chains saw and weapon modification, and then... then there's nothing left for us to do but to serve the demons a bloodbath. Of course, we will be encouraged to do so by the well-known from the previous installment of the series glory kills, i.e. spectacular "finishers", whose execution will provide us with various bonuses.
As for the story background, the Earth was attacked by evil demons, and only the Doom Slayer can defeat them. So the protagonist teleports himself to a planet controlled by the hordes of hellspawn and lands at the very center of the war. Although it all sounds uninviting, our colleague in his preview convinces us that the story will play a slightly more important role here than it did before. You can read about the game's "so crazy that it's good" plot, as well as other aspects, here.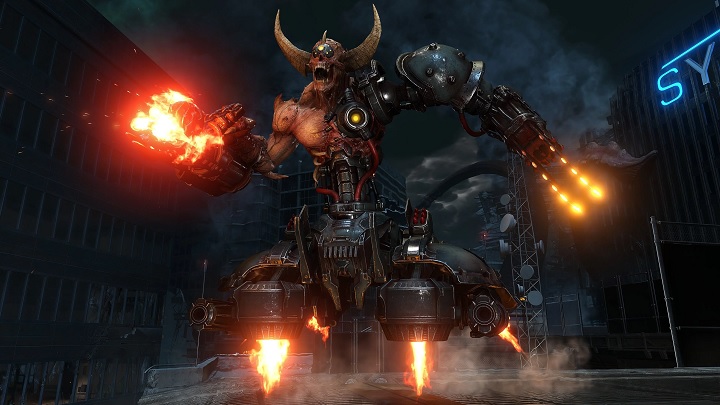 A massive demon attack on Earth ended in a bloody slaughter... of demons.
Finally, Doom Eternal will make its release on PC, PlayStation 4 and Xbox One on March 20. The title will also be available on Google Stadia and later on Nintendo Switch.