The Elder Scrolls IV: Oblivion - Silgrad Tower v.4.0 - Game mod - Download
The file Silgrad Tower v.4.0 is a modification for The Elder Scrolls IV: Oblivion, a(n) rpg game. Download for free.
file typeGame mod
file size210.5 MB
downloads4819
(last 7 days)3
last updateSunday, October 18, 2015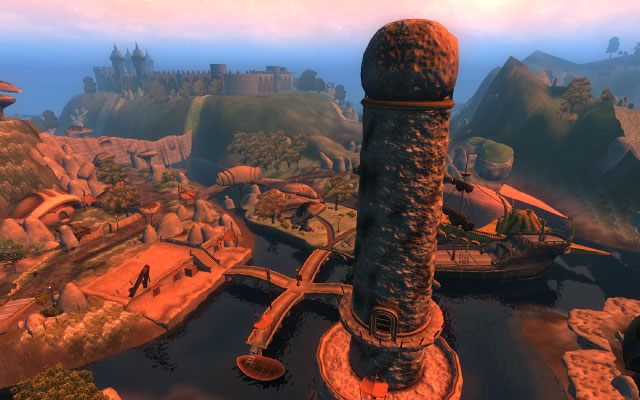 Silgrad Tower is a mod for The Elder Scrolls IV: Oblivion, created by The Silgrad Tower Team.
Description (by authors):
The goal is to create a region of the Morrowind Province's mainland on the opposite side of Vvardenfell's western coast, stretching in latitude as far north as Ald'Ruhn and as far south as Hla Oad. To get a better sense of where our region is situated you might want to take a look at Bethesda's old concept map for Morrowind; notice the two cities 'Soluthis' and 'Silgrad Tower' in the northwest? Our mod takes place roughly between those two cities (while at the same time adding in new cities and settlements). The layout of Morrowind changed quite a bit between that concept map and the real game, and our landmass follows the latest official map more closely.
Three major cities are situated in the region we're creating. The twin cities Soluthis/Reich Parkeep in the forested hills to the north is the district seat of House Redoran. The Hlaalu metropolis Silgrad Tower in the fertile, pleasant south is said to be the second largest city in Morrowind, rivalled only by the capital Almalexia and is a natural center for trade and commerce. Steadhelm is an Imperial charter town on the coast of the Inner Sea, bordered by mountains to the north and a huge swamp to the south. Several smaller Dunmer villages and Imperial settlements can also be found in the region, as can numerous farms.
Our goal is also to have plenty of adventure beyond the comfort of the city walls. Huge burial tombs lie forgotten in the wilderness, mountain strongholds shelter warlords, renegade Daedra worshippers carry out their sinister rituals in remote shrines, highwaymen rob travellers of loot and life alike - and war drums sound from the west, as barbarians from Skyrim prepare to drive Redoran into the sea.
Some of you may be thinking, "Morrowind? Vvardenfell? Is this a TES3 mod, or... what?" And the answer is no, it's not a TES3 mod, it's an Oblivion mod - but we've painstakingly modelled pretty much everything you'll see in our mod from scratch to make you think you're in Morrowind again. Our teammembers have come together with one thing in common above all else - a shared love for The Elder Scrolls III: Morrowind, and we want to see the spirit of Morrowind, and the spirit of the lands our team modded for TES3, live on through the new game.
To instal the mod
Extract into "Data" and in game's menu activate two files:
Silgrad_Tower.esm
Silgrad_Tower_Portal.esp
Last update: Sunday, October 18, 2015
Genre: RPG
File size: 210.5 MB
see more
Popular files for The Elder Scrolls IV: Oblivion