S.T.A.L.K.E.R.: Call of Pripyat - Chernobyl Chronicles v.1.1 - Game mod - Download
The file Chernobyl Chronicles v.1.1 is a modification for S.T.A.L.K.E.R.: Call of Pripyat, a(n) action game. Download for free.
file typeGame mod
file size2252.8 MB
downloads9407
(last 7 days)5
last updateSunday, April 17, 2016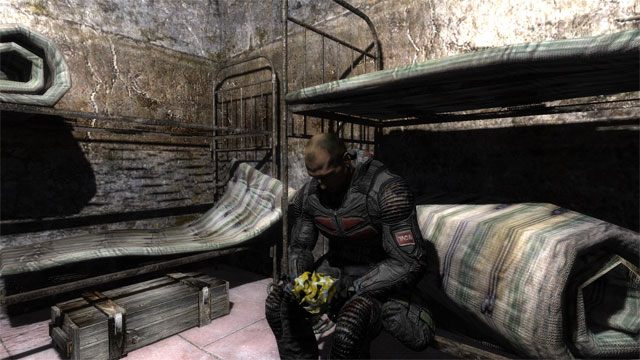 Chernobyl Chronicles is a mod foe S.T.A.L.K.E.R.: Call of Pripyat, created by In Spite Of The Death Projects
Description:
The protagonist, Klim, is an experienced stalker who has spent 3 years in the Zone and has been earning money by hunting and selling artefacts. He doesn't enjoy performing tasks, even well-paid ones, understanding that it's not always worth risking your own life for someone and that employers in the Zone are not always fair. Klim has good reputations among the stalkers.
However, the protagonist has his own goal in the Zone. Before the catastrophe Klim used to live in a small town named Chernobyl-1 (Pripyat's outskirts). A few days before the catastrophe some information about the tragedy which was bound to happen soon had suddenly spread. What's more, another catastrophe, yet to strike in about 20 years, was also mentioned. Having recieved such information in a suspicious letter, Klim decided to leave the town with his family straightaway.
The predicted catastrophe striked in a few days...In 20 years the second one would strike. Klim decides to return to Chernobyl-1 in order to find his flat and the letter, wanting to find out more about the thing that had such an incluence on people's lives. All in all, the novice stalker Klim had to spend 3 years in the Zone before finally getting closer to his target...
List of additions
• Thoroughly written plot lines which allow the player to get deeper into the game atmosphere.
• Particular approach to game dialogs. A lot of dialogs open up their narrator's story and personality. Well-worked texts not only make you simply complete each task and quest, but also keep in touch with what's going on in progress.
• 3 maps: Chernobyl-1 (LA), Pripyat (CoP), Chernobyl-4 (CNPP).
• Qualitative spawn, a number of dungeons, full simulation, new AI-schemes (artefacts hunting/picking + animations and trading + animations), CoP-style stalker camps and anomaly zones.
• Balanced gameplay.
• A capability to customize a few gameplay features for youself.
• Characters' voices for some quest moments.
• Special artefacts transmutation system.
• Regular and engine 1st person cutscenes, GUI-features.
• SWTC weather with a few additions to wether cycle's.
• The list is not 100% full and you may witness other mod additions in gaming process.
To install extract the archive and copy the contents of "Chernobyl Chronicles V1.1 Eng" to game's main folder.
Last update: Sunday, April 17, 2016
Genre: Action
File size: 2252.8 MB
see more
Popular files for S.T.A.L.K.E.R.: Call of Pripyat