Quake - SUPERHOT Quake v.0.20 - Game mod - Download
The file SUPERHOT Quake v.0.20 is a modification for Quake, a(n) action game. Download for free.
file typeGame mod
file size8.4 MB
last updateSunday, April 02, 2017
downloads80
downloads (7 days)1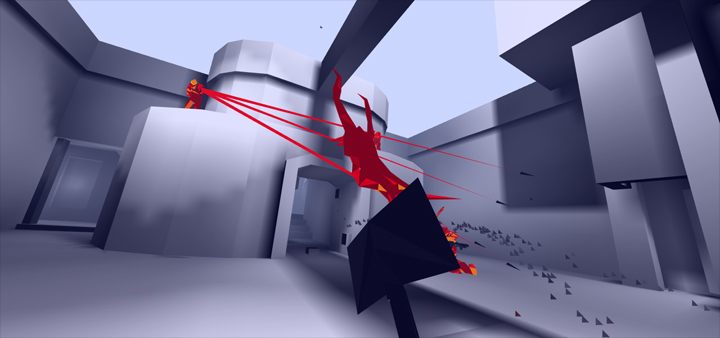 SUPERHOT Quake is a mod for Quake, created by Ash.
Description:
make.it.super.hot. quake edition. Bring the gameplay and visuals of SUPERHOT into the classic game Quake!
GAME FEATURES
Time advances only when you move or perform an action, such as shooting or jumping.
Use your axe to vaporize incoming bullets, or shoot them if you have a weapon.
Pick up weapons from your fallen enemies and kill their buddies with it.
Blow up your enemies into gibs then pick them up to use them as projectiles.
HOTSWITCH into enemies to telefrag them.
Contextual reticle.
SUPERHOT on-screen prints.
No life bars. Instant death.
High contrast, flat low poly and stripes visuals.
Supports most SUPERHOT challenges!
Supports most SUPERHOT achievements!
3 custom maps
GAMEPLAY TIPS
Press and hold the jump button (by default, SPACEBAR) while in midair to slow down time
Gibbed enemies don't drop their weapons, so consider the amount of health they have left before throwing an explosive at them
OR blow them up real good and throw their gibs at enemies
Zombies regenerate health and can only be really killed by being blown up to bits, however you can knock them down with a single axe hit
Use your axe to deflect the Shambler's lethal lighting bolts
Remember that you can destroy any projectiles with your axe or with more bullets
However, be careful not to hit an explosive with your axe as it will explode in your face
Time your shots well to avoid your bullets colliding with your enemies own bullets
The hotswitch challenge is enabled by default, so you can hotswitch right from the start!
Easily change the difficulty level with the console (Press the grave key ` on your keyboard, then type "skill n", where n is the level, 0 = easy, 1 = normal, 2 = hard, 3 = nightmare, 4 = hell)
In easy mode, gameplay hints will be displayed, such as how to grab objects or how to use hotswitch
In nightmare mode, most enemies become much more aggressive! Like simple Ogres are replaced with deadly Shamblers!
FISHES ARE NOW GIBBABLE, GO BLOW THEM UP
Instructions
In this archive you will find Binaries for Windows 32-bit and 64-bit version. Pick the correct one for you and Just extract the files to your Quake folder (i.e., it just needs the 2 pak files in the id1 folder), then launch shQuake.exe. Please note that you need a Vulkan capable graphics card and/or drivers installed to run the game.
Report problems with download to support@gamepressure.com