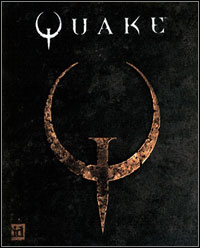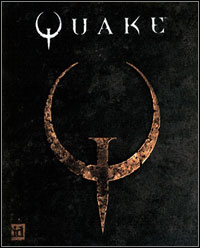 Quake (1996)
PC
A first-person shooter developed by id Software, which established new standards in the genre while being a breakthrough in terms of 3D computer graphics.
Quake (1996)

Release Date PC

22June1996
developer: id Software publisher: GT Interactive Official website

game language: English
Quake for PC is one of the first FPP (First Person Perspective) games that used a 3D engine. The players assume the role of a nameless hero who as the last hope of mankind enters the infernal realms to wreak havoc among demons and bloodthirsty monsters.
Id Software was the developer responsible for Quake, and at that time, the studio was a home for many future game development superstars, such as John Romero, American McGee, or John Carmack. With the Doom series achieving tremendous success, the developers decided to experiment with a completely new graphic engine – Quake Engine, generating 3D visuals in real time. The created game had only rudimentary plot, but introduced a number of innovative elements and great visuals for its time.
Plot
The plot of the game takes place in unspecified future. The government experiments with teleportation led to making contact with the inhabitants of other dimensions. Humanity is in danger from hellish beasts. Only hope lies in operation "Counterstrike" – sending one hero, who by using the interdimensional portals will enter the enemy area, and put an end to the danger.
The nameless hero, controlled by the player, teleports through following "Slipgates", and causes mayhem among the hordes of encountered enemies using eight weapon types – from axes to rocket launchers. His task is to gather the runes unlocking the access to the last dimension, home to Shub-Niggurath (a deity from H. P. Lovecraft's mythology).
Gameplay
The developers prepared dark and thematically varied locations. Some of the maps are stylized in the vein of gothic cathedrals and medieval castles, while others are more similar to hellish depths. In all, the singleplayer mode offers 28 levels grouped into 4 chapters. Four difficulty levels had been introduced, with the last one - "nightmare" had been purposefully hidden.
One of the biggest highlights of Quake was the multiplayer mode, designed for LAN or network matches for up to 16 players, offering such modes like: free-for-all, duel, or teamplay.
Expansions
The game had received two official expansion packs – Mission Pack 1: Scourge of Armagon and Mission Pack 2: Dissolution of Eternity, and a third, unofficial one: Final Mission: Abyss of Pandemonium created by Impel Development Team. The fan community also created hundreds of different modifications.
Last updated on 27 June 2011
Game mode: single / multiplayer Multiplayer mode: Internet Player counter: 1-16
Media type: 1 CD
User score: 8,3 / 10 based on 1082 votes.
Age restrictions Quake (1996): 18+
Quake (1996) System requirements
Recommended:
Pentium 133 MHz
32 MB RAM
graphic card VGA
80MB HDD