Spintires - Tempís Tweaks v.4062017 - Game mod - Download
The file Tempís Tweaks v.4062017 is a modification for Spintires, a(n) simulation game. Download for free.
file typeGame mod
file size34.9 KB
last updateTuesday, June 20, 2017
downloads1754
downloads (7 days)1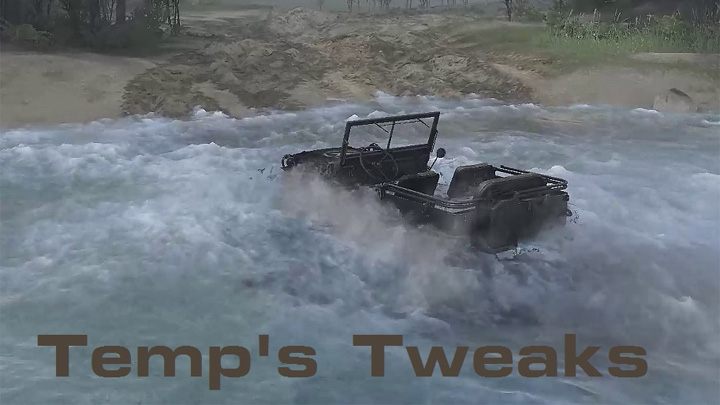 Tempís Tweaks is a mod for Spintires, created by Templar GFX Modding.
Description:
Huge improvements to the game made through complete reworking of Water and Mud physics, Dynamic objects, surface type definitions and object friction values.
Temp's Tweaks
-Improved Water physics reduces vehicle weight when submerged, and creates much stronger force on flat surfaces in rapids to create truly challenging water crossings
-Improved Mud physics reduces grip while spinning wheels, and increases the force required to push vehicle bodies through mud to make things less arcadey.
-Particle effects for water interaction have been updated to fix some bad looking effects. Surf spray around the vehicle totally reworked so a visible line of foam forms along the vehicle edge. Spinning wheels while partially underwater now produces realistic "water wheels" instead of weird splash spots.
-Dynamic Objects such as Rocks and Mud chunks and fallen trees reworked to act much more realistic. Rocks no longer roll around because you looked at them, provide realistic traction and have realistic weight.
-Terrain Types and Overlay config's modified to maximise usage of MDM. Includes many custom maps (just the config files, not the maps)
-Static Object and Rock physics fixes for better traction
!
To install:
Copy the contents of ĄMediaĒ folder from archive into folder with exact same name inside gameís direktory..
Last update: Tuesday, June 20, 2017
Genre: Simulation
File size: 34.9 KB
Files for Spintires