Spintires Video Game Series
Video Games Encyclopedia by Gamepressure.com
Spintires: MudRunner
Simulation 31 October 2017
An advanced off-road truck simulator – Spintires: MadRunner is an enhanced version of Spintires. The game has been published by Focus Home Interactive and allows the player to drive various vehicles designed for extreme road conditions. Throughout the game, one can modify the available machines (the MadRunner edition features 13 new vehicles) and install new parts. The game delivers several large open maps located across Siberia, waiting for the player to explore. Moreover, one can complete numerous assignments (e.g. loading and transporting a timber to a specified destination within a predefined time limit) either on his own or via the online cooperative mode with up to three other players. The difficulty of these assignments lies in the fact that the terrain one has to traverse is subjected to real-time deformations – one's vehicle can easily get stuck in the mud or fall off a cliff. In such case, a player has to use the automatic hoisting winch.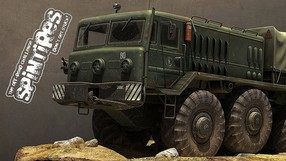 Spintires
Simulation 13 June 2014
A realistic heavy vehicles off-road simulation game, developed by the British studio Oovee Games. Spintires lets the players try their skills as a professional driver, transporting cargo across Russian wilderness. Virtual truckers can sit behind the wheels of carefully designed models of several Soviet off-road vehicles and trucks (including the legendary MAZ-7310), as well as modern models. The job requires from the players much more than just spinning the wheel and putting pedal to the metal. Each course has to be carefully planned, e.g. as to the amount of fuel needed. Successful runs are rewarded with cash, needed for buying truck modifications or new vehicles. Spintires stands out with detailed graphics and advanced driving model based on Havok Physics.