Carnivores 2 - Mandibles v.1.2.beta - Game mod - Download
The file Mandibles v.1.2.beta is a modification for Carnivores 2, a(n) action game. Download for free.
file typeGame mod
file size47.2 MB
last updateSunday, November 5, 2017
downloads92
downloads (7 days)8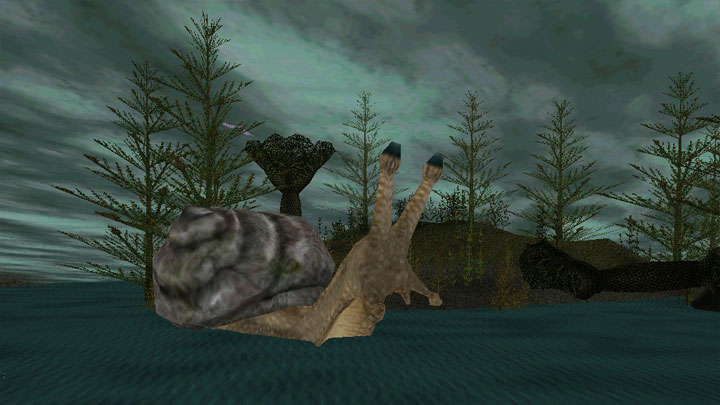 Mandibles is a mod for Carnivores 2, created by P.Rex.
Description:
The sequel to Carnivores Triassic. Explore a new region of planet FMM-UV32, the Eos Sector, where giant arthropods abound amidst primordial swamps.
A few years after the initiation of the famous Triassic Tour, DinoHunt Corp. has entered some rough times. Despite the company's mostly successful attempts to contain the Gojirasaurus outbreak, word of the fiasco has leaked out, causing a rapid decline in revenue from the hunting tours, the dinosaur zoo and other business ventures on the dinosaur planet- though off-world ventures, such as the recently reopened traveling zoo, were still moderately profitable. With DinoHunt's investment in bio-weapon development lost and that entire branch of the company shutting down, the company needed to take drastic measures to bring paying customers and investors back to the dinosaur planet. Thus, they have reluctantly opened a hunting tour in a new region of the planet: the Eos Sector.
Situated south of the Triassic Sector and just north of the Antarctic, the Eos Sector was known and researched thoroughly by DinoHunt since the first days of their Ice Age Tour. Like the Central Sector of the planet's northern hemisphere, the Eos Sector's climate is mostly tropical and temperate; but instead of large mammals, dinosaurs or synapsids, the local fauna consists mainly of prehistoric arthropods- echoing that of Earth's Paleozoic era, particularly the Carboniferous period.
With DinoHunt's clever strategy of marketing it separately from its dinosaur- and mammal-hunting tours, the so-called "Mandibles Tour" soon became popular among the cream of the galactic society. Dinosaurs were yesterday's news, but hunting giant prehistoric bugs was a novel concept- and everyone wanted in. But why was DinoHunt reluctant to open the Eos Sector until now? What deadly secrets hide within the sector's depths? Only time will tell...
Credits:
P.Rex- project leader, concepts, story, graphics, map design, modelling, texture design, PR.
DinoHunt Investor- title, helping flesh out the story.
StarCrafty22- rigging and animation.
ibcircuits- modelling, rigging and animation.
ornithomimid 1- rigging and animation.
ToiletGamerXD- rigging and animation.
Tormer- rigging and animation.
Ophious- weapons.
JenDOS_RUS- modelling.
RaptorKlaw- sound effects.
Fish Tank- sound effects.
.
Installation instructions:
*Extract contents of ZIP into a folder of your choice. The game is stand-alone and does not require a previous install of Carnivores 2 to run.
*Run MANDIBLES.exe to play.
*If there are any errors, set the compatibility of MANDIBLES.exe to Windows 98/Me.
*Under options, set the video driver to D3D or 3DFX Glide. (D3D is preferred) Software is not supported and will not work properly.
!!!IMPORTANT!!! Do NOT update or replace the renderer patches! Mandibles uses its own unique set of patches which allow the custom AIs to work.
Report problems with download to support@gamepressure.com