The Elder Scrolls V: Skyrim Special Edition - Enhanced Character Edit SE v.1.59 - Game mod - Download
The file Enhanced Character Edit SE v.1.59 is a modification for The Elder Scrolls V: Skyrim Special Edition, a(n) rpg game. Download for free.
file typeGame mod
file size75.4 MB
downloads3520
(last 7 days)7
last updateTuesday, November 22, 2022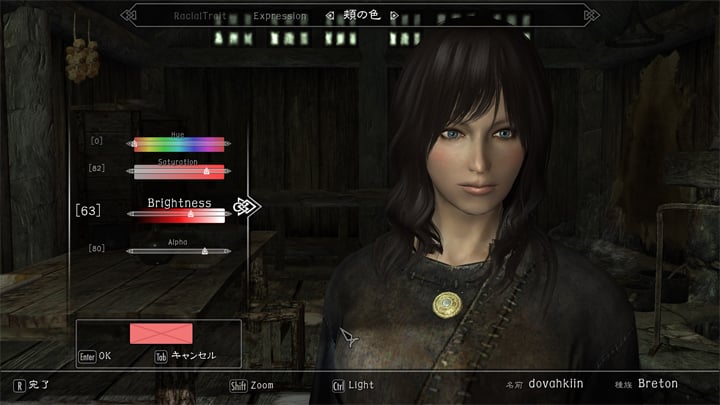 Enhanced Character Edit SE is a mod for The Elder Scrolls V: Skyrim – Special Edition, created by ECE team.
Description (in authors' own words)
This mod adds some new sliders, head parts, one race, and more natural makeup colors.
Main Feature
Adds Sliders
Marge the function of CME, "Character Making Extender" by kapaer
This mod adds more than 50 new sliders (without beast race).
Vanilla slider is now 1.5 times wider.
Change face modeling
- Adds Head Parts
This mod adds more than 30 extra parts of eyes, nose and lips. Adds human head parts of elves and orc race.
- Improves Head Parts
Almost vanilla parts for get easier to create a character.
- Fixed asymmetry head mesh for Female.
- Human female cheeks are rounded. It can be turned off when installing.
Adds Color Sliders
Extends skin, hair, war-paint and tint colors.
You can select a color from the slider, such as transparency, brightness, hue and brightness.
Expression Sliders
It can be changed the facial expression.
Combat- and -Mood can be reset by the mfg reset in console or run the Showracemenu.
Other facial expression slider not reset same as other modelling slider.
Adds Zoom and Light
Zoom on with the Shift key.
You can switch levels of light to five steps by Ctrl key, such as white, yellow, bright white, bright yellow and off.
Can be changed FOV and camera direction
Hold shift key + mouse wheel, and change FOV.
Hold shift key + mouse move, and change camera direction.
Numeric display for all sliders
Save/Load slot
You can save the face you make in the slot when you exit the showracemenu.
Saved-slot can be called from the Slot Load slider.
Vertex Edit
It can be adjusted a vertex position. It supports human mesh of vanilla.
I recommend using a mouse.
When you select Vertex Edit category, show a UV map on the lower center, so you can choose a vertex.
You can scale the map on mouse wheel.
You can adjust a selected vertex by dragging crossed arrow or moving xyz sliders.
If you want to stop the player's animation, type "player.sae idlestaticposeastart" in console. I recommend making a batch file.
Mirror edit mode(x symmetrical) is default. It can be toggle in the slider.
When you move a vertex, you can edit range to be moved at same time apex of that around.
The type of interpolation can be specified following mode.
- cubic interpolation (smooth mountain-shaped)
- line interpolation (pyramid )
- flat interpolation (same movement in range)
Vertex does not confirm edit until you change a selected vertex.
If you want to edit the same vertex, you will need to be re- selected once.
Undo/Redo Panel
Revision history listed on the left side, you can undo/redo freely by clicking.
Undo is recordable up to 50 times.
You can scroll through the history with the mouse wheel.
You can also move one at a time with PageUp / Down on the keyboard.
Some operations are not listed in revision history.
Additional Race YgNord
YgNord's status and ability are same as Nord. YgNord's status and ability are same as nord.
YgNord's male is more younger face than nord one.
?Note:
This race uses different (and independent) folders in both textures and meshes.
You need to put manually the files you want from various body/face mod.
Textures\Actors\character\Enhanced\female\ or \male\
Meshes\actors\character\ygNord\
Includes "Race Compatibility" and "Race Compatibility improved" for additional race bug fixed.
Other Features
These features cannot be available when you select "incompatible package" in installer, alternatively it does not conflict with any mods which edit race record (such as SkyRe Race).
Adds 11 eyebrows to female and five eyebrows to male.
Eyebrow textures included: These files are "Pretty Face" textures.
You can replace them other textures you like.
Adds realistic skin colors, tints colors, hair colors to female.
Adds realistic skin colors, tints colors, and hair colors to female.
New colors are warm color. Pink, orange, red, and brown tone. Approximately 40.
Human and Bosmer only.
Adds six moles, one freckles to female.
One freckles, and three patterns of moles x 2 are added to female complexion slider.
Fixed Vampire Face
If you install with dawnguard, vampire's face replaces with dedicated textures.
it does not apply to player, because it causes a neck seam.
It is the same fix as "Vampire Skin Color FIX".
Instead, vampire's eyes do not apply to player.
Requirement
SKSE64 2.0.4 - 2.0.7
Skyrim 1.5.3 - 1.5.39
In some case, DLC Dawnguard
Installation
Common tasks:
Install SKSE. http://skse.silverlock.org/
Don't forget to install the scripts of "Data folder" of SKSE !
It's Best that you install this mod with Nexus Mod Manager
Last update: Tuesday, November 22, 2022
Genre: RPG
File size: 75.4 MB
see more
Popular files for The Elder Scrolls V: Skyrim Special Edition