Fallout: New Vegas - Hire And Recruit 2 v.1 - Game mod - Download
The file Hire And Recruit 2 v.1 is a modification for Fallout: New Vegas, a(n) rpg game. Download for free.
file typeGame mod
file size23.1 KB
last updateSunday, March 29, 2020
downloads86
downloads (7 days)4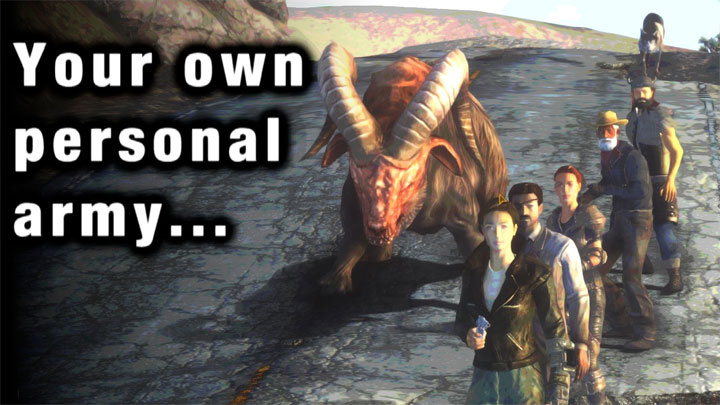 Hire And Recruit 2 is a mod for Fallout: New Vegas, created by PsychorGames.
Description:
?A sequel to my previous mod...
HIRE AND RECRUIT 2 gives you the power to hire almost anyone and anything in the wasteland. Simply enter your "Weapons" tab in the Pip-Boy and select the "Recruiting Contract." With the contract equipped, talk to a friendly NPC.
?Gain fame in groups such as the NCR or Caesar's Legion to...
RECRUIT FACTION MEMBERS. If you accumulate enough respect, you will eventually get the ability to recruit faction members for free!
?Did a recruit get lost?
ENTER RECALL MODE. Your lost, straggling, or waiting teammates will come directly to you!
?Aim at your recruit and press the activate button to...
OPEN THE RECRUIT MENU, where you can command them to wait, follow you, trade equipment, take a stimpak, or retire.
?Hire And Recruit 2 brings you several new abilities. You can now...
TRAIN AND PROMOTE YOUR HIRELINGS. Assign classes to your units based on their skills. Promoting your recruits to Veteran status will double their health.
> To heal your robot or creature buddies, you must select "Talk To" from the recruit menu. In dialogue, you'll be given the option to patch up your non-human friends. <
Instructions:
Use Mod Manager. Alternatively mod into DATA folder. Activate the mod through your preferred launcher by ticking the checkbox next to the esp.
This mod requires NVSE.
see more
Popular files for Fallout: New Vegas