Mount & Blade II: Bannerlord - RTS Camera v.e3.10.0 (for e1.6.2) - Game mod - Download
The file RTS Camera v.e3.10.0 (for e1.6.2) is a modification for Mount & Blade II: Bannerlord, a(n) rpg game. Download for free.
file typeGame mod
file size431.3 KB
downloads2570
(last 7 days)114
last updateWednesday, September 1, 2021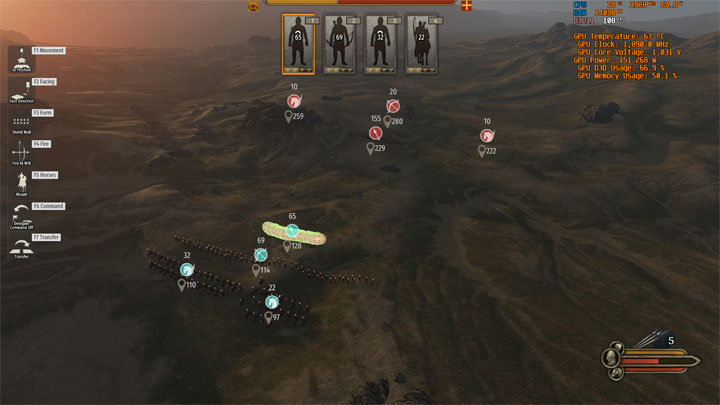 RTS Camera is a mdo for Mount & Blade II: Bannerlord, created by  LiZhenhuan1019.
Description:
Issue orders in RTS camera as if you are playing Total War, control troops after you die, toggle slow motion, etc.
RTS Camera
(Old name: EnhancedMission, Enhanced Mission RTS Camera)
A mod for Mount&Blade Bannerlord that provides features like rts camera, controlling troops after you die, etc.
Features
Issue orders in rts-style camera.
Control ally troops after you die.
Pause game or adjusting time speed.
Hide HUD.
Since mod version e1.0.5, realistic blocking and adjusting combat AI are moved to another mod called "Improved Combat AI??".
Because supporting them may cause the mod crash after beta update and break compatibility.
Hotkey rebinding.
Configuration saving.
Undead mode. HP of All agents will not change after switched on.
How to install
Copy `Modules` folder into Bannerlord installation folder(For example `C:\Program Files\Steam\steamapps\common\Mount & Blade II Bannerlord - Beta`). It should be merged with `Modules` of the game.
Or use Vortex to install it automatically.
How to use
Start the launcher and choose Single player mode. In `Mods` panel select `EnhancedMission` mod and click `PLAY`.
Then play the game as usual.
After entering a mission (scene):
Press `O(letter) (by default) to open menu of this mod. You can access the features of this mod in it.
Or you can use the following hotkeys by default:
Press `F10` to switch between rts-style camera and main agent camera.
Press `F` key or `F10` key to control one of your troops after you being killed.
Press `End` to disable death.
Press `[` key to pause game.
Press ' key to toggle slow motion.
Press `]` key to toggle HUD.
Or if you rebind the key and forget what you have set, you can also press `Home` key to toggle UI, which always works.
How to play in rts camera:
In a mission, press `F10` to switch to rts camera.
Your player character will be added to the formation chosen in mod menu.
Use `W`, `A`, `S`, `D`, `Space`, `Z` and mouse middle button to move the camera.
Use `shift` to speed up camera movement.
Move your mouse to rotate the camera, or when order panel is opened, drag right button to rotate the camera.
Left click on the ground and drag to change the position, direction and width of the formation you selected.
Hold `ctrl` when dragging to arrange multiple formations vertically.
Hold `ctrl` and scroll mouse to adjust camera movement speed.
When order panel is closed, you can left click or right click to lock the camera to soldiers. Move the camera to unlock it.
Known Issue
Switching to RTS camera may cause crash later in siege.
Last update: Wednesday, September 1, 2021
Genre: RPG
File size: 431.3 KB
see more
Popular files for Mount & Blade II: Bannerlord