Mount & Blade II: Bannerlord - Harness Variety v.1.0.0 - Game mod - Download
The file Harness Variety v.1.0.0 is a modification for Mount & Blade II: Bannerlord, a(n) rpg game. Download for free.
file typeGame mod
file size2.4 KB
last updateWednesday, September 16, 2020
downloads29
downloads (7 days)19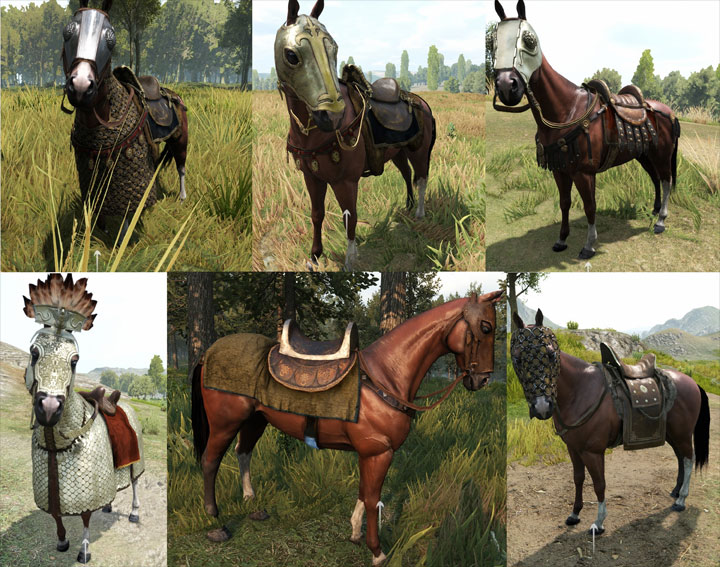 Harness Variety is a mod for Mount & Blade II: Bannerlord, created by Fireman.
Description:
Requires 1.5.2.+
This mods adds six new harnesses (with new looks) to the game, which will also be included in Scum & Villainy, but that I decided to release seperately for now.
1. The lightweight and hardened Woodsman harnesses.
2. The scale barding with plate mask (higher armor than Imperial Scale Barding).
3. Three noble harnesses, which can be used in towns; Vlandian, Imperial and Sturgian.
FAQ
Q: Where do I find the items?
A: They are set as merchandise and will appear in the towns of their cultures (Woodsman harnesses in Battania, Scale Barding in the Empire and the noble harnesses in their respective regions).
Q: How does this work?
A: Since 1.5.2+ the horse armors consist of two parts: The harness itself and the reins (which includes the mask), therefore you can mix and match some models with each other to create new harnesses.
To install:
Extract to "… bannerlord\Modules\" and activate in launcher.
Last update: Wednesday, September 16, 2020
Genre: RPG
File size: 2.4 KB
see more
Popular files for Mount & Blade II: Bannerlord