Call of Duty 4: Modern Warfare - CoD4X Client v.20.6 - Game mod - Download
The file CoD4X Client v.20.6 is a modification for Call of Duty 4: Modern Warfare, a(n) action game. Download for free.
file typeGame mod
file size4.6 MB
downloads58682
(last 7 days)1023
last updateWednesday, April 20, 2022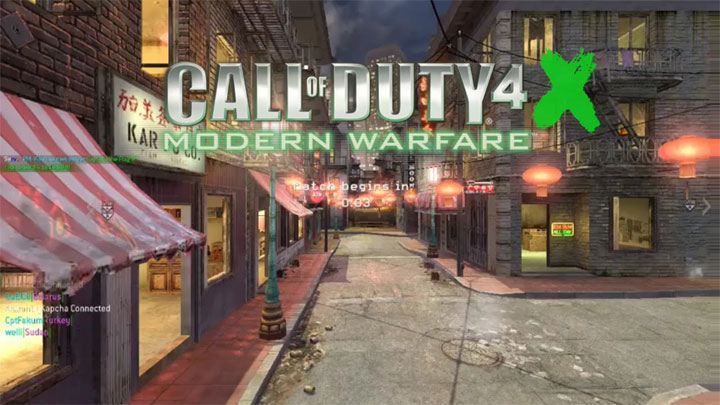 CoD4X Client is a mod for Call of Duty 4: Modern Warfare, created by Callofduty4x Team.
Description:
Client modification for Call of Duty: Modern Warfare with the aim to fix bugs and enhance gameplay!
FEATURES:
Extension : Extendable with a powerful server Plugin API. Examples are: anti spam, sensor and many others
Settings: Highly configurable server settings and the opportunity to control the server in-game
Refresh: When the official master server is down, you don't have to worry. We added a new one and extended its features! The serverlist will continue to work
Bug_report: Several bugfixes, alongside with additional features.
Autorenew: Receive over-the-air updates and don't care about the installation every time a new version is released
Fingerprint:Reliable identification of players, you know with whom you are playing and who is on your server
Do_not_disturb: Measurements against known hacks of any kind making your server more secure and gaming more fun
Undo: Backwards compatibility, meaning that you can also connect to 1.7 (and 1.7a) servers
Instructions:
Before you install CoD4X, you have to update your game to the latest official version, which is 1.7.
If you own the Steam version, this is already done for you. Otherwise, please follow the instructions below.
Update the game to 1.7
Download the 1.6 and 1.7 patches from here
Install the 1.6 patch first as administrator
Install the 1.7 patch as administrator
Launch the game and check in the bottom right corner if 1.7 is displayed
Once you've done that, you can continue installing CoD4X.
Install CoD4X
Download CoD4X from here
Extract the zip file to your Cod4 installation directory
Enter the extracted folder
Run install.cmd. You might have to run it as administrator
Launch the game and check in the bottom right corner if CoD4X is displayed
Uninstall CoD4X
Enter the extracted folder
Run uninstall.cmd. You might have to run it as administrator
Last update: Wednesday, April 20, 2022
Genre: Action
File size: 4.6 MB
see more
Popular files for Call of Duty 4: Modern Warfare