Mount & Blade II: Bannerlord - Enhanced Battle Test v.2.1.1 - Game mod - Download
The file Enhanced Battle Test v.2.1.1 is a modification for Mount & Blade II: Bannerlord, a(n) rpg game. Download for free.
file typeGame mod
file size414.1 KB
downloads128
(last 7 days)7
last updateTuesday, May 4, 2021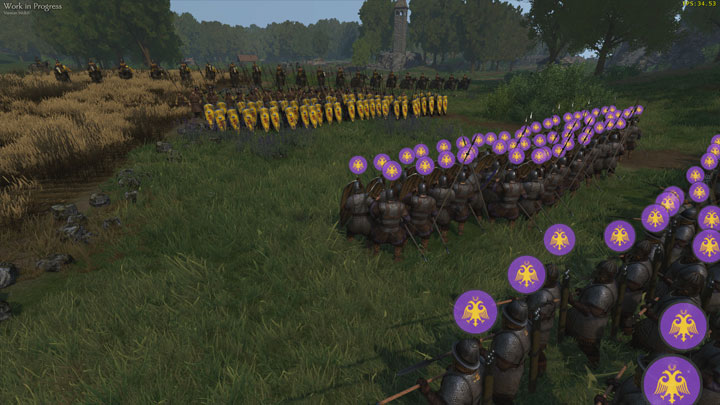 Enhanced Battle Test is a mod for Mount & Blade II: Bannerlord, creatd by LiZhenhuan1019 Jffifa
Description:
A mod for Mount&Blade Bannerlord that provides more powerful custom battle.
Features
You can start a custom battle and choose multiplayer characters or singleplayer characters.
You can choose at most 8 groups of troops for each side.
(This not supported now)For multiplayer characters, you can choose perks, which is the same as in multiplayer mode.
For singleplayer mode, you can choose all the characters in campaign except companions, as they are generated dynamically.
You can adjust gender ratio for each group of troops.
You can customize the banner of each team in banner editor in singleplayer battle test, with copy-paste feature.
Configuration saving. The battle configuration is saved in "(user directory)\Documents\Mount and Blade II Bannerlord\Configs\EnhancedBattleTest\".
The configuration for multiplayer battle test is saved in "mpconfig.xml" and that for singleplayer battle test is saved in "spconfig.xml".
Instructions:
How to install
Copy `Modules` folder into Bannerlord installation folder(For example `C:\Program Files\Steam\steamapps\common\Mount & Blade II Bannerlord - Beta`). It should be merged with `Modules` of the game. Or use Vortex to install it automatically. Note that the other files should not be installed. They are source files used to build the mod and are for those who want to modify the mod.
How to use
Select "Singleplayer Battle Test" in main menu. It may be slow to load because it would start a campaign game to load all the data. This problem may be solved in the future.
You can select troops for each side of teams.
Click each formation to select troop for it.
You can change conditions to filter characters appearing in the list.
Try to change other search conditions if the character list is empty, especially the "Group" condition. You will get the character list empty for most occupations when group is set to "cavalry".
Click `Start` to enjoy the battle.
Last update: Tuesday, May 4, 2021
Genre: RPG
File size: 414.1 KB
see more
Popular files for Mount & Blade II: Bannerlord