Mount & Blade II: Bannerlord - Improved Garrisons v.4.0.3.7 - Game mod - Download
The file Improved Garrisons v.4.0.3.7 is a modification for Mount & Blade II: Bannerlord, a(n) rpg game. Download for free.
file typeGame mod
file size165.4 KB
downloads585
(last 7 days)46
last updateWednesday, September 22, 2021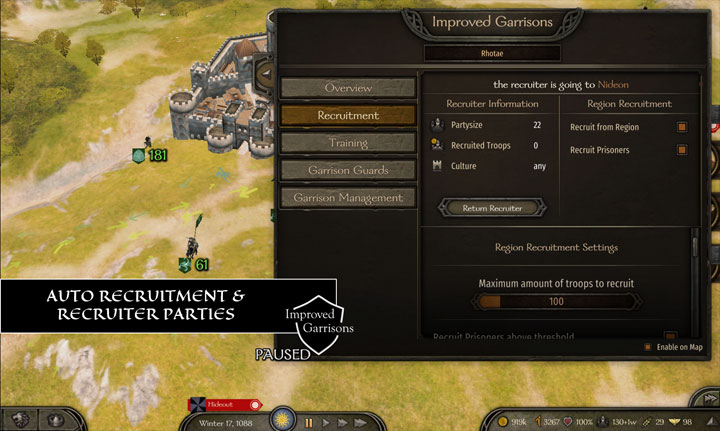 Improved Garrisons is a mod for Mount & Blade II: Bannerlord, created by Sidies.
Description:
Customize your fief management with recruiters, advanced troop training with templates, automatic garrison recruitment, a standalone UI, custom parties with orders and more!
Improved Garrisons is a Mount & Blade Bannerlord mod which aims to improve the management of your castles and settlements. With this mod each of your fiefs will gain an Improved Garrison which allows the usage of new advanced and customizable features such as recruitment, garrison training and guard parties which use a custom AI to defend your fiefs region.
FEATURES:
Standalone UI
Configurate each Castle or Settlement individually
Activate & Deactivate the mod as you wish. Ongoing campaign or new one doesn't matter!
Manage your Improved Garrisons from everywhere on the map
A compact overview of each of your fiefs. You have an overlook about which of your settlements, castles or villages are under attack, are destroyed or are in peace
Recruitment
Recruit new troops automatically from nearby villages to your garrison
Recruit prisoners automatically overtime
Set a threshold to which the mod will recruit new troops. If the threshold is reached (like 100 default) no more units will be recruited to the garrision
Create Recruiter parties
Recruiters recruit troops from outside of the garrisons region (the fief and it's villages)
Recruiters can be told to recruit troops of a specific culture
Tell the recruiters how many troops to recruit
Tell the recruiters to only recruit elite troops and they will collect your battanian archers for you!
Training
Train garrisoned troops automatically
Use a Template Manager to customize and apply your very own training template
The Improved Garrison will automatically upgrade troops according to your training template
Training templates are synchronized across all your saves
Compose & train your next army as you wish in your garrisons
Templates may be unique for each garrison. Use one to train an Empire army and another to train your Khuzait Bow Riders
The Improved Garrison will automatically recruit all needed troops for your training template. Just select the type and number of units you want and wait for the recruitment and training to be finished
Custom AI
Establish Guard parties out of your garrison troops
Guard parties can be given different orders
Guard parties defend your villages, castles and settlements
You can order Guard parties to follow you into war. They help you siege and in your field battles
Order Guard parties to defend clan parties like caravans or other companions parties
Guard parties capture prisoners for you and even sell them
Guard parties are self-sufficient. They refill with new troops from the garrison if you wish and heal themselves if wounded
Guard parties buy horses from towns if you wish to gain additional movement speed
Guard parties acquire loot from killed parties and sell it
Guard parties are smart. They use their own special AI which thinks about stuff like "I should defend XY village", "I shouldn't attack XY party it is to fast or to strong", "I should go back to a settlement and heal my units", and much more!
Additional Features
Set the mod values as you wish with an in game configuration menu
Adjust many base game Garrison related settings
Turn this mod for AI on/off (turn it on if you want a challenge. Try it!)
Transfer Garrison units from one Garrison to another
Enable cheats related to your garrison like Garrison's donít need food or disable the garrison costs
And probably much more I forgot to mention or included in a new update (I don't always update this list)
Installation
(You can savely install & update this mod even with an ongoing campaign)
Download the mod manually from this website
Extract the file
Copy and paste the downloaded folder ImprovedGarrisons to [your_steamAppsfolder]/common/Mount & Blade II Bannerlord/Modules
Now go into the pasted ImprovedGarrisons folder ImprovedGarrisons/bin/Win64_Shipping_Client and right click the file ImprovedGarrisons.dll. Check at the bottom of the opened window if you find a tick-box called "Unblock". Tick the box and press ok. If you don't have this option you are already good to go.
Start the the game from Steam
In the Launcher find and press Mods
Find Improved Garrisons and activate it
Enjoy!
Deinstallation
(You can savely deinstall the mod even with an ongoing campaign)
Activate the "delete all Improved Garrisons Parties" option ingame in the configuration menu of Improved Garrisons
Save & quit the game
Deselect the Improved Garrisons mod in the M&B Launcher
Last update: Wednesday, September 22, 2021
Genre: RPG
File size: 165.4 KB
see more
Popular files for Mount & Blade II: Bannerlord