The Sims 4 - Have Some Personality Please! v.3042022 - Game mod - Download
The file Have Some Personality Please! v.3042022 is a modification for The Sims 4, a(n) simulation game. Download for free.
file typeGame mod
file size398 KB
downloads7074
(last 7 days)427
last updateTuesday, May 10, 2022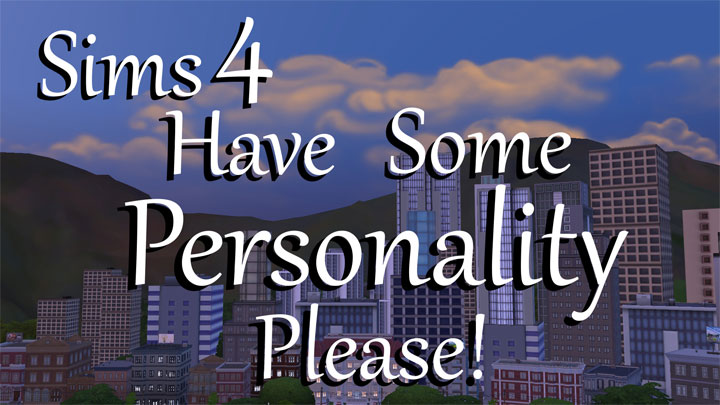 Have Some Personality Please! Is a mod for The Sims 4, created byPolarBearSims
Description:
This mod will bring more personality to your sims!
FEATURES:
Most of the romance is restricted till higher romance levels.
Sims might learn traits and careers from Deep Conversation
More alien interactions
Cats & Dogs with Personality!
More Autonomy
No Idle Chat
Restrictions on romance to help with cheating sims
More autonomy for toddlers
Interactions based on Traits, Moods, Conversations & Relationships
Toddlers acting more like their traits
Restrictions on woohoo and try for baby
Instructions:
HOW TO INSTALL THE SIMS 4 MODS?
1. First, you need to enable support for mods in The Sims 4. To do this, start the game, go to the "game options", and then to the "other" section. Here, you have to check two boxes: "Enable Custom Content and Mods" and "Script Mods Allowed."
2. Then, you need to extract the downloaded mod and move it to My Documents/Electronic Arts/The Sims 4/Mods. Extracted files will be in the format .package or .ts4script. You can move them dirtectly or to a subfolder, both will work.
Add as many or as few traits to your mod folder as desired. Keep all package files and script files paired together in order for the social interactions to work properly. Since this is a script mod, these traits can only be placed one folder deep.
3. That's it. The mods should work the next time you play the game.
Last update: Tuesday, May 10, 2022
Genre: Simulation
File size: 398 KB