FIFA 23 - Fifa 23 Career Icons Mod v.0.4 - Game mod - Download
The file Fifa 23 Career Icons Mod v.0.4 is a modification for FIFA 23, a(n) sports game. Download for free.
file typeGame mod
file size2.4 MB
downloads896
(last 7 days)210
last updateMonday, October 17, 2022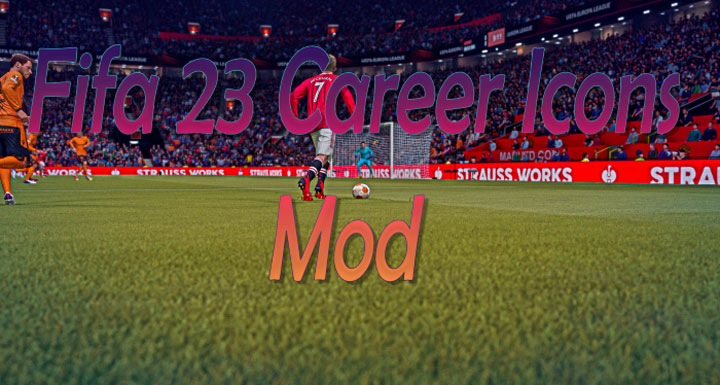 Fifa 23 Career Icons Mod is a mod for  FIFA 22, created by Greyspectre
Description (in author's own words):
A mod that adds Ultimate Team Icons and Heroes into the offline career mode squads.
Welcome to my Fifa 23 Career Icons Mod!
This mod follows a very similar pattern to my previous mod - Fifa 22 Career Modded Squds which you can also find on Nexus. Though a bit more streamlined.
This mod will introduce the Icons and Heroes from Ultimate Team and place them into the offline career mode for you to use and enjoy. The mod will ONLY FOCUS ON PLAYERS WHO WERE PLAYING FROM THE YEAR 2000 ONWARDS. Therefore, some Icons such as Cruyff or Cantona will not be included. However, there will be a mod in the options folder with them added, but this will not be updated once published :)
The mod will edit Icons and Hero players to appropriately fit into the game, meaning their overall rating will be reduced slightly so they won't all have a rating of 98 from the start, but will have potentials that range from 90-98. The age of each of these players and their attributes will be edited where necessary, some Icon/Hero players I like to set their starting age as 18 with a lower Ovr rating so you can have them grow into your squad.
Real life players will also be edited where possible, e.g. reducing the age of players such as Messi and Ronaldo, and generally making tweaks where Fifa has been duly unfair. Mostly these edits will relate to pace and stamina.
Where possible, I will add Icons/Heroes and created players to the clubs they are most associated with, and move existing players back to where they spent most of their career e.g. Messi to Barcelona, but this will not always be the case if there are too many world class players in the same position, in this instance, I will move spare players to clubs that would benefit from them.
Installation
Download folder and extract file into your PC/Documents/Fifa23/Settings
Last update: Monday, October 17, 2022
Genre: Sports
File size: 2.4 MB