Far Cry 5 - Simple Realistic Reshade FC5 v.1.3 - Game mod - Download
The file Simple Realistic Reshade FC5 v.1.3 is a modification for Far Cry 5, a(n) action game. Download for free.
file typeGame mod
file size22.4 MB
downloads121
(last 7 days)56
last updateFriday, March 17, 2023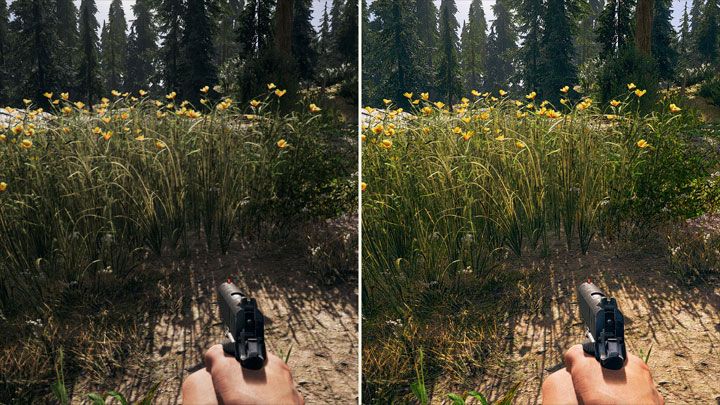 Simple Realistic Reshade FC5 to modyfikacja do Far Cry 5, której autorem jest  Chris Rubino. If you end up enjoying this mod please consider supporting it's creator through PayPal.
Description:
A simple Reshade preset and shaders pack for Far Cry 5.
This preset would give you simple realistic mimic and slightly increase in-game immersive look, with smaller performance hit.
It's NOT using heavy or complex shaders (e.g AO, HDR, Ambient Light, etc); just simple shaders.
3D stereoscopic mode (Top-Bottom) also included with this simple preset.
It's based on Reshade 2.x.x (customized version).
How to Install:
- Clean-up/Move/Backup your previous SweetFX or Reshade files (dxgi.dll/d3d11.dll and their related files and folders) if you already installed it to your game.
- Extract this file into the same folder with your game executable (FarCry5.exe)
How to Un-install:
- Delete or move these files: dxgi.dll, ReShade.fx, and also /Reshade/ folder
Note:
For the best result, please set Anti-aliasing to TAA
Command Keys:
INSERT: Toggle Effects ON/OFF (default is ON)
F11: Activate 3D Stereoscopic Mode - Top and Bottom Format ~ Optimized for LG 3D Cinema Screen (Thanks to: Jose Negrete for this awesome shader!)
PRINT-SCREEN: Take in-game Screenshoot (in PNG format and it would be save to your game root folder)
DEL : Toogle The Light-boost** ON/OFF (default is ON)
PAUSE : Toggle realtime side by side comparison (left = vanilla, right = with mod ON)
** Please turn it OFF if you feel the scene is too brighta dziwnie, więc możesz ją wyłączyć.
PAUSE : Przełączanie porównania w czasie rzeczywistym obok siebie (lewa = wanilia, prawa = z włączonym modem)
Last update: Friday, March 17, 2023
Genre: Action
File size: 22.4 MB