Game preview
14 June 2019, 11:08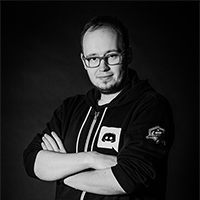 author: Mike Manka
Can it wait for a bit? I'm in the middle of some calibrations.
Cyberpunk 2077 E3 Gameplay Impressions
During the E3, I had another opportunity - after last year's E3 - to see Cyberpunk 2077 in action. The hour I've spent watching the game allowed me to fill some blank spots in, but there are still many questions that need an answer.
Read the review Cyberpunk 2077 Review - Samurai, You've Got a Great RPG to Play!
This text was based on the PC version.
CD Projekt RED went to Los Angeles and nailed it once again during the Xbox conference. Some will attribute the success to the game itself, while for others, Keanu's involvement was crucial. And I say it doesn't matter at all, because yesterday, I had the opportunity to see the Cyberpunk 2077 in action at E3 for the second year in a row, and I found that CDPR aims very high... and it seems that, once again, they want to set a new standard.
CYBERPUNK 2077 IN A NUTSHELL
Release date: 16 April 2020
Platforms: PC, PS4, XONE
Price: $60
What's Cracking in Night City?
You all should be more or less familiar with the setting of Cyberpunk, but I think we could use a short introduction. The action of the game takes place in Night City, a fictional place in California. In late 21st century, there are three things you need: power, money, and them implants in your brain. The game tells the story of V, an aspiring mercenary, who's trying to arrange his/her life in the dystopian metropolis.
Last year, we met V. The heroine, together with her friend Jackie, performed a mission for Dex DeShawn. The assignment was supposed to promote them to the criminal A-league of Night City. This year, the Reds opted for a move that left me thoroughly impressed. Since last year, coverage of Cyberpunk showed V, Jackie, and their attempts to get to the top. However, the trailer, shown during this year's E3, threw it all into the toilet and unceremoniously flushed down the drain. In the trailer, Jackie dies, Dex wants us dead, and V even kills T-Bug, the girl, who was helping the protagonist in last year's gameplay. Things go FUBAR fast, and then, all dressed in white (albeit with a silver hand), he enters the stage – Johnny Silverhand, an iconic character in the world of Cyberpunk, privately Keanu Reeves, Caesar of action-cinema.
The only issue is that, in the Cyberpunk lore, Johnny Silverhand is considered dead. So how come the character played by the same actor as John Wick appears in the game? Turns out V has a special chip installed, which, allegedly, hides the secret to immortality and at the same time allows the protagonist to chit chat (and perhaps more) with Silverhand. During the demo, the long-haired rockerboy appeared on the screen several times, commenting the current events. We can thus assume that for some time – at least as long as we have the said chip installed – Reeves will be speaking quite often. But we have a theory about Silverhand.
Before seeing the demo, we managed to have a little talk with Mike Pondsmith, the creator of the table-top RPG system, Cyberpunk 2020. We of course asked him about Reeves' involvement, and how it was possible that he was playing a dead character. Pondsmith, unsurprisingly, didn't answer directly, but pointed to the fact that in his story, Silverhand is admittedly considered dead, but his body was never found, suggesting that perhaps the not-so-young rockstar somehow managed to survive the nuclear blast. While these are merely theories and surmise, we do hope that Silverhand will accompany V not only as a hologram.
JOHNNY SILVERHAND
In the original, Silverhand was a rockerboy (the cyberpunk equivalent of, say, Zack de la Rocha) the frontman of the band Samurai (the one, whose logo V wears on the jacket). Johnny, however, was not only a musician, but also a rebel warrior who didn't like how much power corporations had over the world. His alleged death occurred during the assault on the headquarters of the Arasaka Corporation in the Night City. Good résumé, innit?
How much RPG in RPG? Loads!
Let's move on to the content of the demo itself, because there's quite a lot to talk about. Although the developers have been shifting the nomenclature a bit lately, calling their game an open-world action game, it still is an RPG. The first thig we saw was the character creation menu, which already looks a bit different than last year, but still offers a set of choices to define our hero or heroine. There were also attribute points, which have undergone some changes compared to last year as well. The available attributes are body (which most likely has replaced strength and endurance), intelligence, reflexes, technical (hacking skills) and cool, which, according to Pondsmith, is more than just the equivalent of charisma, a stat defining how others perceive the character, changing the attitude toward them.
Cyberpunk 2077 will not only allow a great dose of freedom in terms of conducting the story, but also provide incredibly flexible gameplay. That's why the game will not feature a rigid class system, but rather a form of smooth character building oriented towards the preferred type of gameplay. In order to achieve this, a system of perks was implemented, which players will develop for points obtained for completing missions. During the presentation, we managed to jot them all down, which was not an easy task, but here they are: pistols, rifles, blades, hacking, guns, two-handed weapons, assassinations, cold blood, sniper rifles, engineering, melee, and athletics. That's plenty of stuff to wrap your head around – maybe too much, at first glance – but it seems to me that after having a better look at the system as a whole, we should be able to determine our favorite way to play the game in no time. Let's also remember that the game is still far from finished, and some elements are bound to look different than today, which may also include the system of perks.
When creating a character, we also need to choose her or his background story. In the E3 demo, three origin stories were available: Nomad, Street Kid and Corporate. Interestingly, all of these elements – attributes, perks, and even the origin – can influence the dialogues, and sometimes, the players will have access to special dialog options provided by one of these factors. This doesn't necessarily mean that every such possibility will be the right one – we still need to carefully select the answers, since things such as our story background can dramatically change the attitude of the NPCs towards the protagonist.
So, as you can see, dialogue has a big role to play in Cyberpunk 2077. Moreover, dialogues can allow you to complete the game without killing anyone. Of course, this will sometimes require sneaking and sometimes using non-lethal force, but there also will be many occasions, where we will be able to escape a dire situation by conducting the conversation correctly.