Game preview
17 October 2019, 17:28
author: Darius Matusiak
A wannabe fighter pilot, racing driver, and a spec-op; an adventurer and a space marine – hence, a gamer. I've been playing games since Wing Commander, and writing since Destiny.
Star Wars Jedi: Fallen Order is the Electronic Arts Game We've Been Looking For!
No endgame, no road map, no microtransactions! Star Wars Jedi: The Fallen Order shows its Force even before the release, and has the chance to revive the cult setting.
Read the review Star Wars Jedi: Fallen Order – EA (Finally) Strikes Back
This text was based on the PC version.
Save us, Jedi: Fallen Order – you're our only hope! Why so much weight on a single game? First, the Star Wars universe deserves a game that's more than just chaotic battles in a multiplayer clone of Battlefield. Electronic Arts, for its part, is in a dire need of a complete and high-quality production – without any controversies, lootboxes, microtransactions, or a list of broken promises on the roadmaps. After a few hours spent with Star Wars Jedi: Fallen Order and a short conversation with the game director, Stig Asmussen, I got the impression that both of these may just be achieved.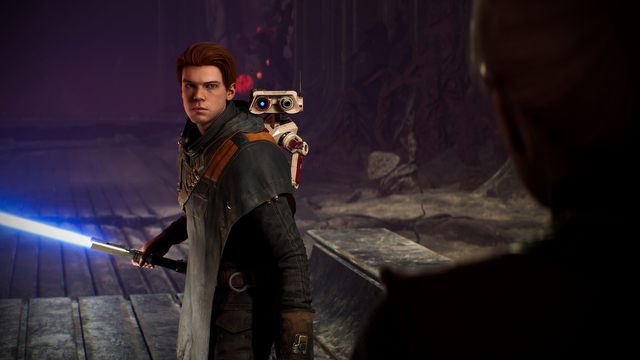 The new game with Star Wars in the title is primarily focusing on the plot – with a beginning, middle and an end. It's no multiplayer, no endgame, and no scheduled chapters or events. It's even a departure from the Frostbite engine, mandatory in other games from EA. If it weren't for the logo at the beginning, it would be hard to even guess that this is an Electronic Arts' game, which gives an impression that the Force of Respawn Entertainment is particularly strong, and it's actually their game – in every aspect. Star Wars Jedi: Fallen Order seemed to me very similar to Darksiders 3, with a small dose of Tomb Raider or even God of War. The main director (who worked on the third installment of the adventures of Kratos) – Stig Asmussen – confirms the great experience of his team, but he also emphasizes the uniqueness of the Jedi: Fallen Order in many aspects.
I learnt a lot from the God of War (the third one – ed. note) game, but I also learnt that there are many other ways to create a game and this one is different from the games I made in the past (...) There are of course many influences from games that we worked on before. People brought them from a great variety of games. It was learning from people that are industry veterans and learning together to make something I am really proud of.
Stig Asmussen – game director
How to become a Jedi?
For many players, however, the most important aspect of the new Star Wars game will be the shift of focus to the story. The authors note that this story is not about a Jedi knight, but rather about becoming a Jedi. About the entire process of education and learning the capabilities of the Force, which we'll experience with the protagonist, Cal Kestis. Together with his mentor, Cere Junda, the captain of the Stinger Mantis ship, Greez Dritus, and the robot BD-1, he travels the galaxy on a complex mission to restore The Jedi Order. Everything unfolds between the third and fourth episode of the film saga, which gave the developers a bit of creative freedom and greater ease in entering the current Canon.
One of the greatest thing about the time of our story is that we own it to a certain extent. There are things which are happening during this time period, but with all the other things which are known publicly, this is kind of our space. We know there is Saw Garera in our game and he is alive and doing things so we thought that it is a neat opportunity. It is something that fits effortlessly with Cal's journey.
(…)
In regards to lore the game is choke full of little nuggets whether the come from a main story or or you can scan objects found in the environment. The way that we are giving out support information to the story - there are certainly nuggets that pay homage to the films but also animated series and you might even find things in there that come from other sources as well.
Stig Asmussen – game director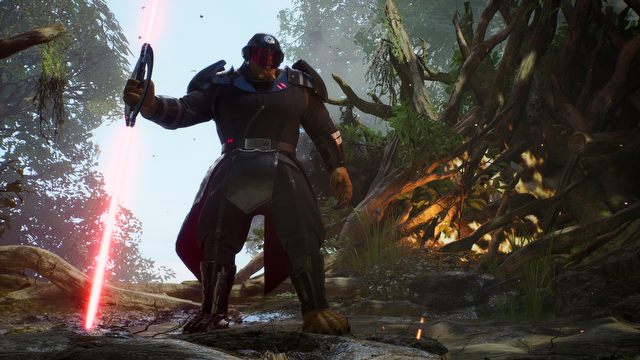 The authors also talked a bit about the thread of Kanan Jarrus, which is pretty similar at first glance – he was another Jedi, who had survived the slaughter of the Knights when Order 66 was executed We know his story from the comic books, and a cartoon series Star Wars: Rebels.
Yeah, Kanan escaped Order 66 in comic books. But we are not repeating that story. All we know is that tens of thousands of Jedi have fallen. We don't have any idea how many have survived that is basically what the game dives into. No other Star Wars featured at this point what is like to be a Jedi during this dark times. The story of Kanan is much further along so I think the stories are very different.
Stig Asmussen – game director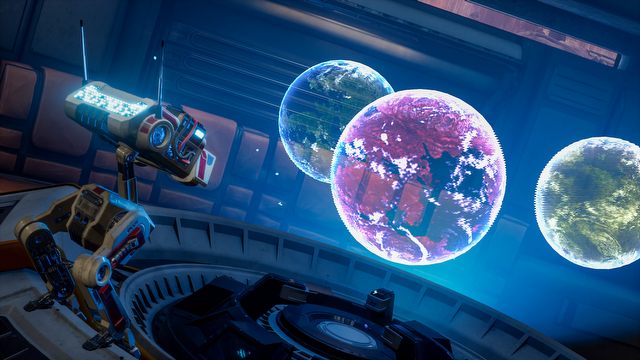 After just a few hours with the game it is, of course, difficult to form a definitive opinion on the plot. What was apparent, though, was a strong emphasis on the story itself, both in cut-scenes and during dialogs and interactions with our mates aboard the Stinger Mantis. Basically, the only thing I could take issue with was the appearance of the main character, and that says something. He looked more like a polite schoolboy, which, combined with his impeccable haircut, creates a rather strong contrast with his actions, that is mowing down Imperial soldiers by the dozens. This was done on purpose, though – to get the image of an innocent, young man, which reminds me a bit of the controversies surrounding casting Hayden Christensen as young Anakin. Which makes me wonder whether Cal will also have such a character arch?