Game review
13 July 2023, 15:00
Jagged Alliance 3 Review - A Solid Return of a Legend!
Fans of the Jagged Alliance series had to wait 24 years for the next installment of their favorite game. But does the 3 have a chance to meet all the expectations, or will it turn out to be the final nail in the coffin.
The review is based on the PC version.
I began my adventure with the Jagged Alliance series in 1999, when I managed to buy the second part of this game with saved pocket money. Although whole 24 years have passed since its release, in my view, Jagged Alliance has risen to iconic status, with which very few turn-based strategy games could boast of. During this time, the developers made several attempts to revive the series. However, they haven't been successful in the eyes of casual gamers, not to mention Jagged Alliance veterans.
No wonder, then, that I treated any news about the upcoming JA3 with a heavy dose of skepticism. However, I can safely say that the developers from Haemimont Games have done their homework and created a game that, though it doesn't match the famous JA2, still definitely doesn't bring shame to the franchise. It's a nice breath of fresh air. But let's start from the beginning.
Old, good Jagged Alliance
Jagged Alliance 3 tells a standard story for the series. Together with other mercenaries, we focus on recapturing the Grand Chien State. Its president has been kidnapped, and the same fate may also happen to his daughter. Of course, to make it not too easy, we will encounter hordes of soldiers who belongs to a paramilitary organization called the Legion, led by a mysterious Major. Sounds familiar, right?
The developers made sure that the players will feel like at home. In Jagged Alliance 3, the well-known A.I.M. from the previous part is returning. And I.M.P., with the help of which players will gather a team of mercenaries. The majority of familiar faces are returning, so if you once again want to choose Bobby "Steroid" Gontarski or the Dolvich brothers for your team, you have the perfect opportunity to do so. Of course, the creators didn't take the easy way and didn't focus only on already known characters. Several new soldiers have joined the mercenaries for hire, each characterized by their own strengths and weaknesses.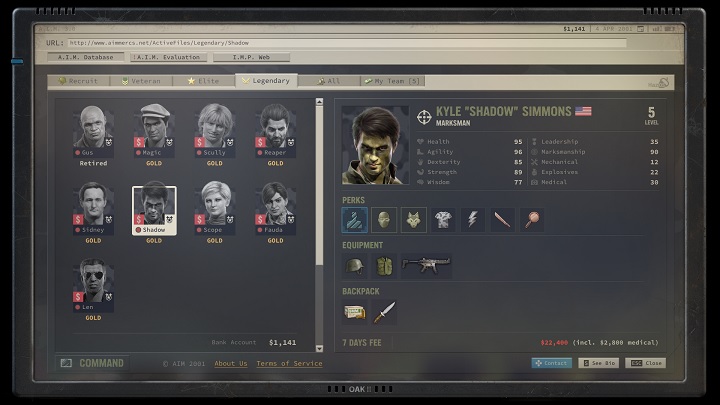 In Jagged Alliance 3, old friends are coming back. Photo source: Jagged Alliance 3
In the case of I.M.P. players received the opportunity to create their own "liberator" once again, and his characteristics will be chosen on the basis of a specially created quiz. I was quietly counting on the return of the questionnaire from Jagged Alliance 2 but this time, the iconic (in my eyes) "fight between Barbie doll and Godzilla" was missing. The set prepared by the developers, however, brought a smile to my face several times, and it must be admitted that the people responsible for it showed creative ingenuity. In the questions and answers that make up the quiz, you can feel a lot of references to action cinema from the turn of the 20th century, in which the heroes shot first, and asked question second. This actually is the essence of the Jagged Alliance franchise, thanks to which players wanting to play JA3 will feel like in the good old days.
You must gather your party before venturing forth
Even if at first sight, selecting mercenaries for the team doesn't seem too important, believe me, Jagged Alliance 3 quickly verifies such mistakes. Even the smallest mistake can turn an easy skirmish into a true nightmare. Therefore, it is important to choose the right specialists in the field of medicine, mechanics and explosives. The last time I played Jagged Alliance 2 I liberated almost all of Arulco with just shooters in my team. Here, by contrast, the very first sectors can cause a lot of problems without proper combat and tactical preparation.
PROS:
Good, old Jagged Alliance;
high replayability;
enjoyable combat;
good optimization;
diverse battlefields;
for fans of the series – a high difficulty level
CONS:
for the rest of the players – high difficulty level;
issues with the targeting mechanics;
AI-controlled characters seem invincible;
AI can be erratic.
This will be particularly noticeable, especially if you want to play at a higher difficulty level. A little advice – leave yourself a higher difficulty level until you know the rules for Jagged Alliance 3. Take my word for it, even at the lowest level, the slightest mistake can make your mercenary look more like Swiss cheese than Swiss knife. I have the irresistible impression that the developers have thrown too much of a challenge even for veterans of the series to handle, so more casual gamers may simply bounce off this title. Another loss of a beloved mercenary or a meeting with enemies who could teach Hawkeye and Deadshot accuracy can effectively take away the desire to play and any joy of the game. That's not really what all this should be about, right?
The tactical map is enjoyable
As one might guess, it is the tactical map where we will spend most of our time during the gameplay. Place where all skirmishes with unfriendly bastards take place. However, prepare yourselves for long battles, which can last even several dozen minutes. Occupying larger objects can be particularly time-consuming and you need to allot a significant amount of time. The developers indicate that it should take about 50-60 hours to get through the main storyline, but after several hours I can tell that you should at least double that time.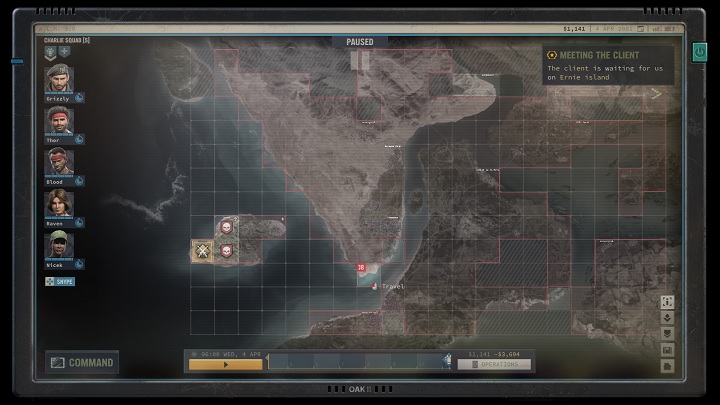 The liberation of Grand Chien will be associated with gaining power in many surprise-filled sectors. Photo source: Jagged Alliance 3
For the first time in the series, however, the possibility of a more pacifist conflict resolution appeared. Having a mercenary with a sufficiently high value of one of the attributes in the team can result in new opportunities, such as persuading the enemy to retreat, for example. That's why it's a good idea to talk to the NPCs we meet along the way, who can be convinced to our reasons. They will often offer us their help, which can be invaluable.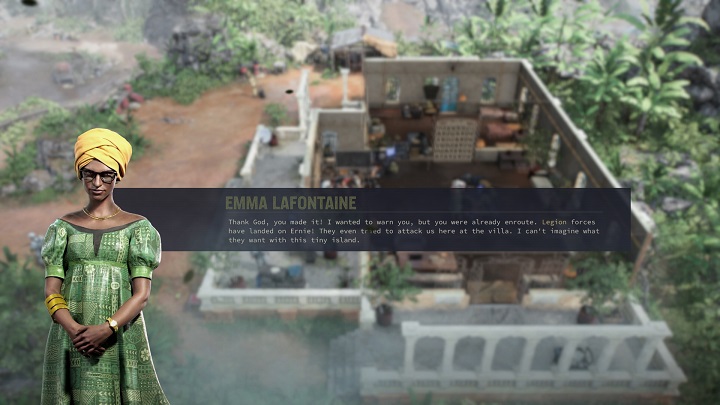 Independent characters can be very helpful. Photo source: Jagged Alliance 3
Compared to JG2, in Jagged Alliance 3, the developers have effectively improved the moments in which the player controls characters in real time. With a bit of luck, which can be increased by having a mercenary specialized in night operations, it's possible to go through the entire map and quietly eliminate every single enemy. The option to switch to stealth helps with this, but you have to accept that the whole elaborate plan might go up in smoke. After yet another failed attempt, one might feel the urge to hurt their keyboards.
Combat, fool
However, this doesn't mean that fighting isn't fu – it really is. This element in Jagged Alliance 3 has absolutely everything that a player could ask from a decent turn-based strategy. There's a variety of weapons, quite a lot of skills and elimination options, which make every encounter look different every time. Besides, practically every map where we have to fight has a very diverse terrain. Thanks to this, before the actual fight begins, you can position your mercenaries in the right places, using the benefits of natural cover such as rocks and trees. However, it's worth remembering that they will not always offer sufficient protection. If the opponent has a weapon of a higher caliber, it's worth reconsidering your placement. Of course, there's nothing to prevent you from using this rule against enemies. A well-thrown grenade can spectacularly take out the bad guys in a room.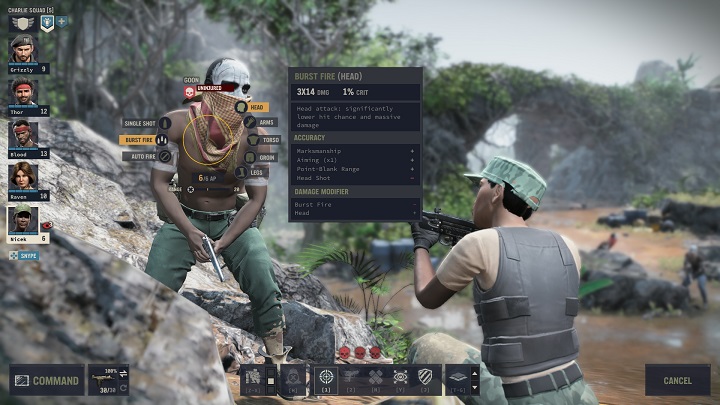 My character quickly regretted missing a shot from that distance. Photo source: Jagged Alliance 3
There's also an advanced targeting system, which is not perfect, but I suspect the creators will take care of improving it in one of the post-release patches. It was actually this element that caused the most problems during my adventure with Jagged Alliance 3. Sometimes I had the impression that no matter how well-trained my mercenaries were, they acted as if someone had momentarily lobotomized them. To the point that the best shooter on the team wasn't able to hit an opponent standing right in front of him. If this happened sporadically, I wouldn't have mentioned it – after all, the RNG could have been unfavorable at that moment. However, this can happen way too often, and the enemy doesn't have similar problems, which my mercenaries subsequently realized in a painful way.
While we're on the subject of hostile characters, let's stop here for a moment. It's worth to notice that the developers implemented quite efficient AI for the opponents that we will encounter. They don't stand and wait for death, instead they actively look for cover or any other points that will give them an advantage over us. Sure, there are moments when they run around chaotically. Sometimes they can even put themselves up for shooting by our mercenaries. But in the majority of skirmishes, their actions are well thought out, and because of this, even at the lowest difficulty level, the combat brings a lot of enjoyment.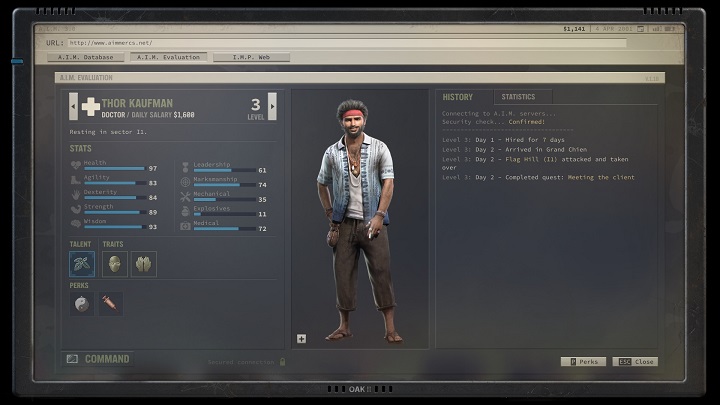 From the browser level, you can quickly check the characteristics of hired mercenaries. Photo source: Jagged Alliance 3
How does it look from the technical side? It's better than I originally assumed. The developers from Haemimont Games studio ensured good optimization of their latest game. Even my several-year-old computer, composed of a Ryzen 3 3100 and a GeForce GTX 1650 Super, allowed for comfortable gameplay at high framerates. Occasional minor animation glitches did occur, but they were not bothersome enough to interfere with unlocking subsequent sectors on the Grand Chien map.
Grand Chien, I'm coming!
So what exactly is Jagged Alliance 3? Personally, I just think this is a piece of a very well-made game. This is not your perfect title, but it certainly is an extremely successful continuation of the legend from 1999. If you are fans of Jagged Alliance 2 and were quietly counting on a modernized version of the game, part three will definitely meet your expectations.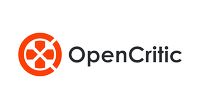 Our reviews are featured on OpenCritic.
Especially since all indicates that the game will not die a natural death too quickly, all thanks to the official support for mods, a feature already known from the prequel. Personally, I can't wait to see what ideas the players are going to come up with. Could it be that we'll get another chance to free up areas we know from previous parts of the games? Who knows what ideas the community will invent, but one can certainly expect their imagination to be limitless. If only the creators fixed some of the annoying bugs, I am confident about the success of Jagged Alliance 3.
Martin Nic | Gamepressure.com