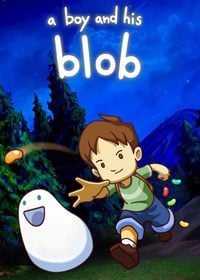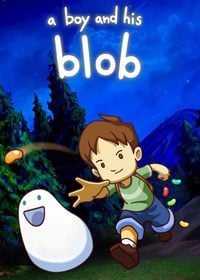 A Boy and His Blob
A re-imagining of a 2D platform puzzle game for Wii and NDS, which is a remake of a classic hit originally published in 1989 for Famicom (NES). The game tells the story of a boy and his bizarre, jelly-like fella called Blobert.
Arcade | platform | 2D | indie games | side-scroll
A Boy and His Blob
Release Date
A Boy and His Blob is another instalment of the classic, two-dimensional platformer. The original version came out at the end of 80s for the NES. 20 years later, overcoming many problems on the way, the remake for Wii was finally released in 2009. The game was re-introduced by Majesco Entertainment Company and WayForward Technologies director Sean Velasco – privately a big fan of the first version of the game. The same duet provided the players with another instalment of the series, this time for PC / Windows and the 8th generation of video game consoles.
Plot
Once again we are introduced with a story of a boy and his unusual friend – a jelly-resembling alien called Blobert. After crash-landing on Earth, he is looking for help as he tries to overthrow an evil emperor, who makes the people of Blobolonia – Blobert's homeland – follow a cruel diet based on candy exclusively. Therefore, the two heroes set out on a risky adventure during which they collect objectives necessary for defeating the emperor. To make the task harder, the boy and Blobert are constantly followed by the emperor's minions, who are trying to stop them.
Gameplay
A Boy and His Blob for PC, XONE and etc. is a two-dimensional platform-puzzle, in which you travel through different locations, collect objects, avoid traps, solve logic puzzles, and fight enemies. Compared to the original title from 1989, not only the graphics have changed, but also the game mechanics. The hero that you control has now much more moves and abilities, while in the original version you could only move left or right. Blobert's special abilities play a key role in the game and they can be developed with jellybeans that have different flavors – each corresponding to a different ability. Owing to the power of the jellybeans, your alien friend controlled by AI can transform itself into a trampoline, a cushioning umbrella, boxing gloves or even a cannon that can shoot your enemies.
Game mode: single player
PEGI rating A Boy and His Blob
A Boy and His Blob System requirements
Minimum:
Intel Pentium D 805 2.66 GHz/AMD Athlon 64 X2 4600+ 2.4 GHz
1 GB RAM
graphic card 512 MB GeForce 9600 GT/ Radeon HD 4650 or better
3 GB HDD
Windows 7/8
Recommended:
Intel Core 2 Duo E7500 2.93 GHz/AMD Athlon 7850 2.8 Ghz
2 GB RAM
graphic card 1 GB GeForce 9600 GT/Radeon HD 4650 or better
3 GB HDD
Windows 7/8 64-bit