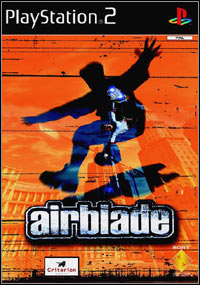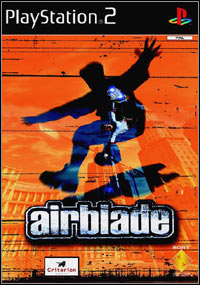 AirBlade
PS2
A game for skateboarding fans who are fed up with classic skateboarding. In this production we ride on an antigravitational board. The gameplay itself resembles hits from the Tony Hawk's Pro Skater series.
AirBlade

Release Date PS2

11September2001
developer: Criterion Games publisher: Sony Interactive Entertainment Official website

game language: English
Taking the tried and true boarding formula, but with some nifty new tricks up its sleeves, AirBlade is a futuristic jaunt into the gravity-defying world of airboarding. Playing as laid-back rebel and occasional delivery boy Ethan, you'll ride the prototype hoverboard 'liberated' from evil corporation GCP. Essentially a floating skateboard, this snazzy bit of kit allows you to pull off the sort of stunts Tony Hawk can only dream of.
Now, defying gravity is one thing, but defying the will of oil-guzzling super-company GCP is another thing altogether. They're pretty anxious to recover this new eco-friendly mode of transport, and want to suppress any evidence regarding the safe, renewable energy it runs on, fast. It's up to you to dodge the GCP goons, rescue the board's inventor (your best friend science-geek Oscar), and enlist the help of hack-happy cohort Kat - all this, of course, whilst showing off some mightily impressive moves.
For those who are well-versed in the ways of Tony Hawk et al, the gameplay will feel reassuringly familiar. It's a skate 'em up that's mission-based, and involves navigating around obstacle-strewn levels, pulling off jumps, tricks and grinds. All fairly standard stuff, but the thing that sets this game apart is the ability to perform stunts that would otherwise be impossible on a conventional board. Featuring a totally interactive environment, AirBlade allows you to use the surrounding architecture to execute gravity-flouting manoeuvres and spectacular tricks. Swing off lampposts, dodge through traffic, and glide down steps as you whiz through the city at breakneck speed.
AirBlade looks rather good too, with the quality of character and trick animations, surroundings and lighting effects all adding depth and detail to the proceedings. You'll hover round authentic-feeling environments, complete with weathered surfaces and bits of graffiti here and there.
In addition to the central Story Mode, which allows you to unlock further areas as you progress, there's the opportunity to flaunt your skills in the multiplayer modes, and even a party play mode for post-pub shenanigans. With everything you'd expect from a boarder, but with some nice twists on the theme, AirBlade is a worthy addition to the genre.
* Ten game modes, with five single-player, four two-player and even a party-play mode
* Earn 'evolution points' to unlock new areas, and hunt down dozens of special bonus missions
* Unlock additional characters as you progress
* Your board's capabilities will improve throughout the game, allowing for more spectacular stunts
Game mode: single / multiplayer
User score: 7 / 10 based on 31 votes.
Age restrictions AirBlade: Good for all ages.