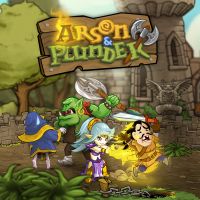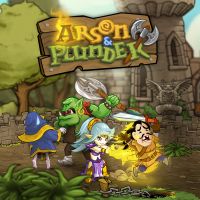 Arson & Plunder
PC
Old school "walked" 2D fight in modern, comic setting. The game refers to arcade hits from the early 90's and focuses on breaking through the hordes of enemies with the help of one of the two heroes: ruthless, brutal ploughing or the magic of the delicate elves.
Action | fantasy | 2D | beat 'em up
Arson & Plunder

Release Date PC

29August2013
developer: Headup Games publisher: Headup Games Official website

game language: English
Remember the good ol' arcade days? Way before free-to-play, a billion dollar industry, quick-time events or DLCs were invented? Let's dive into the golden age of gaming again with Arson and Plunder!
Arson and Plunder is a 2D arcade/beat'em up adventure based on the big genre classics of the 90's. The core gameplay has been technically modernized and is now demanding your vote! In perfect beat'em up style you wade as a merciless orc or magic wielding elf through the blood of hordes of your enemies. In single player mode, switch between characters who have magically been bound to each other.
The game features beautiful 2D visuals, interactive scenarios and a humorous story. Survive and free your realm from the human occupying power in five difficulty levels. While playing you can always switch between being an orc or an elf. This element makes the game especially dynamic. The controls are always intuitive and help you to carve your way through an adventure bursting with humor and action.
Game mode: single / multiplayer Multiplayer mode: Player counter: 1 - 2
Age restrictions Arson & Plunder: Good for all ages.