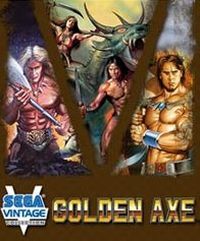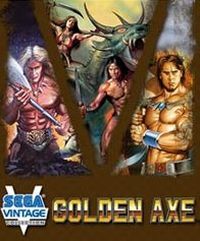 Golden Axe
A side-scrolling fighting game classified as a slasher, set in a fantasy world, and a conversion of the hit production from arcade machines of the SEGA company.
Action | fantasy | 2D | beat 'em up | for 2 people
Nothing happens in the kingdom of Yurii. Living so far in peace and prosperity, the people of this land have been attacked by a wicked knight and his hordes of fallen warriors. As if that wasn't enough, Death Adder - as the villain is called - kidnapped the king and his daughter, the rightful heir to the throne, and imprisoned them in the dungeons of an inaccessible castle. It seemed that everything was lost, after all, the royal army soldiers died long time ago in battles with Death Adder's troops. Fortunately, you appear, the last righteous, who with the help of a faithful weapon will make a just revenge.
The player chooses from among three warriors. Ax-Battler is a barbarian from the borderlands of Yurii, glorified for his bravery in combat. He did not know anything about Death Adder's invasion as he had been on a dangerous expedition for a long time. After returning home, seeing his mother's death martyred by enemy troops, he swore a bloody vengeance to Death Ader. He will not rest until the evil knight falls from the blow of his sword. Similar motives are followed by Gilius Thunderhead, a dwarf from the Wolud mine. Defending his domain against Death Adder's army, he saw his twin brother fall from the enemy's hand. As dwarves are strongly tied to their relatives, Gilius swore to get the main provocateur of the whole turmoil and then commit suicide and unite with his brother's soul. The third daredevil is a woman, Tyris Flame, the last living representative of Amazon. All members of her tribe were exterminated by order of Death Adder and the holy jungle - their house - was razed to the ground. Vengeance sends Tyris to Yurii, where the terror of her executioner and executioner spreads. The Amazon sworn in, that soon it will change dramatically...
All three, apart from their high skills in wielding weapons, also have a good knowledge of magic. Each character has one spell, whose strength depends on how many blue pots we have - the equivalent of mana. Collecting jugs can be done by kicking gnomes that appear from time to time. Considering that this doesn't happen very often, spells should be used against the most dangerous opponents - ideally with fully charged energy, of course. In addition to killing enemies with a sword, heroes will also be able to use the services of dragons, which blows are inflicted more effectively than in melee combat. However, the animal must first be restrained, knocking down on the ground its former master. The action of the game is divided into several episodes, which in turn mark the way to Death Adder's castle. Of course, the farther, the harder - there are more opponents, in addition more sturdy - that's why you have to prepare for a sharp jatka.
The game allows two people to have fun at the same time, both in adventure and classic duel - one in one. If you don't want to argue, you can also try it alone in both modes. The classic duel differs only in the fact that instead of the second hero, we will be attacked by more and more hordes of enemies.
With no doubt, Golden Axe is a successful conversion from slot machines. Nice graphics (especially in VGA), pleasant sound and high playability make PeCet's adaptation of the hit break as well as in the original, if of course you have a joystick - because the keyboard control is quite cumbersome.
Please let us know if you have any comments or suggestions regarding this description.
Game mode: single / multiplayer Multiplayer mode: Player counter: 1 - 2
User score: 4,5 / 10 based on 289 votes.
PEGI rating Golden Axe
Golden Axe System requirements