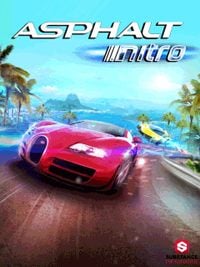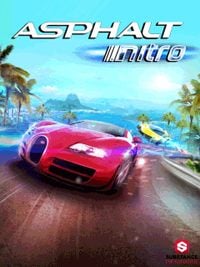 Asphalt Nitro
AND
The next installment of the series of arcade racing games, supervised by the French studio Gameloft. The title allows you to sit behind the wheel of several dozen cars susceptible to optical and mechanical modifications and take part in crazy races on several different routes.
Racing | vehicles | play for free | Police
Asphalt Nitro

Release Date AND

27October2015
developer: Gameloft publisher: Gameloft Official website

game language: English
Asphalt Nitro is an arcade racing game developed by French studio Gameloft. The title is distributed in a free-to-play model with microtransactions.
Mechanics
Asphalt Nitro's gameplay is based on a formula developed by previous installment from the series. The players drive a variety of cars and take part in crazy races on the streets around the world. The players have acces to a garage filled with dozens of machines from various price ranges - from Mini Cooper S and Alfa Romeo MiTo, through Mitsubishi Lancer Evolution X and BMW M6, to supercars like Pagani Zonda R, Ferrari LaFerrari, or even Bugatti Veyron 16.4. Individual vehicles are customizable - tuning covers both appearance and mechanics, allowing for increased acceleration and maximum speed, installation of nitrous oxide system (i.e. the title nitro, which provides a momentary injection of power), as well as improved maneuverability.
The races themselves take place on sixteen routes located in six locations: Italy, China, Nevada, Brazil, the Alps, and Iceland. The key to success is not only to have a fast car and excellent skills but also to get to know the tracks that are full of jumping playforms, allowing for spectacular trocks, and useful shortcuts. Depending on the chosen variant of the game, the aim of the competition may be to cross the finish line in the first place, eliminate all opponents taking part in the race, or at least to get past corners in spectacular slides and get the highest possible score. After years of being abset, the competition with the participation of law enforcement forces returns to the fray - players can play as police officers and catch participants of illegal races or stand on the other side of the barricade and flee from the justice system.
Game modes
The pillar of Asphalt Nitro is a career divided into six seasons. In addition, the title offers a quick race option and asynchronous multiplayer mode, where we try to beat the records set by opponents from all over the world.
Technical aspects
Asphalt Nitro boasts high-quality three-dimensional visuals. Particularly attention to detail was paid to car models, as well as to light and visual effects, such as blurred images visible at higher speeds.
Game mode: single / multiplayer Multiplayer mode: Internet
App size:
Age restrictions Asphalt Nitro: Good for all ages.