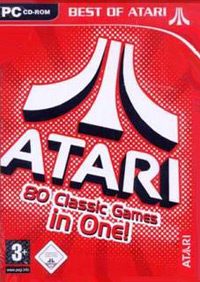 Atari 80 Classic Games in One
PC
Atari 80 Classic Games in One is a collection of 80 hits perfectly known to gaming salons and Atari 2600 computer users. Players can try their hand at cult productions such as Asteroids, Pong, Super Breakout, Star Raiders and Yar's Revenge.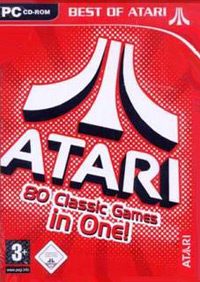 game language: English
game release date for PC:
11November2003
Despite the passage of time, classic games from the era of 8-bit computers still enjoy great popularity. Developers from the Digital Eclipse studio decided to remind players of the best titles once played on Atari slot machines and computers.
According to the title, the compilation of Atari 80 Classic Games in One includes 80 carefully selected titles. The visitors of the showrooms with slot machines have the opportunity to try their hand at it again: Asteroids, Asteroids Deluxe, Battlezone, Black Widow, Centipede, Crystal Castles, Gravitar, Liberator, Lunar Lander, Major Havoc, Millipede, Missile Command, Pong, Red Baron, Super Breakout, Space Duel, Tempest and Warlords.
Fans of the Atari 2600 can remind themselves: 3D Tic-Tac-Toe, A Game of Concentration, Adventure, Air-Sea Battle, Asteroids, Basic Programming, Battlezone, Bowling, Breakout, Canyon Bomber, Casino, Centipede, Circus Atari, Codebreaker, Combat, Crystal Castles, Demon to Diamonds, Dodge 'Em, Double Dunk, Flag Capture, Football, Fun With Numbers, Golf, Gravitar, Haunted House, Home Run, Human Cannonball, Math Gran Prix, Maze Craze, Millipede, Miniature Golf, Missile Command, Night Driver, Outlaw, Quadrun, Radar Lock, Realsports Baseball, Realsports Football, Realsports Tennis, Realsports Volleyball, Sky Diver, Slot Machine, Slot Racers, Space War, Star Raiders, Star Ship, Stellar Track, Street Racer, Submarine Commander, Super Baseball, Super Breakout, Super Football, Surround, Swordquest: Earthworld, Swordquest: Fireworld, Swordquest: Waterworld, Video Checkers, Video Chess, Video Olympics, Video Pinball, Warlords and Yar's Revenge.
The developers of the Atari 80 Classic Games in One compilation tried to maintain maximum fidelity to the original productions. Graphic design, music and game mechanics have been preserved. The changes included only the control system, which has been adapted to the standards of modern computers. There are also frames in the shape of a gaming machine casing and a CRT monitor.
Please let us know if you have any comments or suggestions regarding this description.
Age Rating
age requirements: everyone
System requirements
Recommended:
Pentium III 1 GHz
512 MB RAM
500 MB HDD
Windows XP/Vista/7