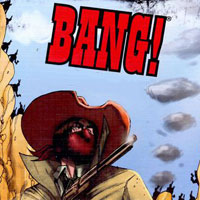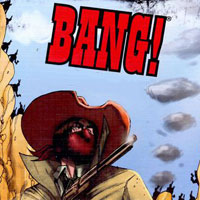 Bang!
Bang! is a digital card game by dV Goichi, in which the players take on the roles of sheriffs and villains in the dangerous Wild West. Asmodee Digital is responsible for creating the digital version.
Party | western | card games
Bang! is a multiplayer digital card game where players play the roles of heroes (sheriffs and their deputies) and villains in the Wild West. The game was developed by dV Giochi, and its digital version was taken care of by experienced developers from Asmodee Digital.
Mechanics
When playing Bang! we start by drawing character (each of them has a special rule that will make it easier for us to play) and role cards. Players can become a sheriff, deputy sheriff, bandit or renegade. The role determines the objective of the game: the task of the sheriff is to eliminate the bandits and the renegade, the deputies support their boss, while the bandits try to kill the lawmakers (focusing on the sheriff - his death ends the game). Renegade wins when they are the last to remain in the game. Interestingly, only the role of the sheriff is known to the other participants of the game - everyone else's role remains hidden. Players have to guess who their ally is by deducing from the actions taken by each person.
Game modes
Bang! is a multiplayer game.
Technical aspects
The visuals in Bang! consist mainly of nice, but somewhat unoriginal drawings on cards.
Game mode: multiplayer Multiplayer mode: Internet
Age restrictions Bang!: Good for all ages.