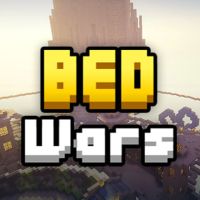 Bed Wars
Bed Wars from Zhuhai Sandbox Network Technology is a cooperative free to play action game inspired by the Minecraft formula of the same name. In Bed Wars, four teams stand together to fight and destroy their opponents' beds.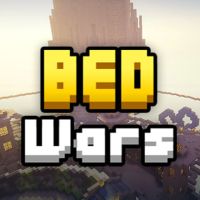 Game mode: multiplayer
Multiplayer mode: Internet, players: 16
Bed Wars from Zhuhai Sandbox Network Technology is a game inspired by Minecraft mode under the same name. The game is distributed in free-to-play model. 16 players are divided into 4 teams; the task of each is to get to the rivals' islands and destroy their beds.
Mechanics
In Bed Wars 16 players are divided into 4 teams. Each team gets one of the flying islands for themselves, where their base and respawn point are created. The players are reborn after every death as long as there is a bed for their team. Therefore, in Bed Wars the most important task is no the kill the enemies, but to destroy the opponent's beds.
Character progression takes place through the acquisition of better and better equipment, for which resources are needed. However, the acquisition of these materials does not resemble the system known from Minecraft - we do not have to look for them by digging deeper and deeper tunnels; in Bed Wars valuable materials appear by themselves in the designated places on different islands. Once a player has collected enough of them, they can trade them with a merchant for useful items.
Building in Bed Wars is limited to minimum, although it is still extremely important - we move between the islands using hand-built bridges, and the walls protecting the bed or blocking a passage can give the player a few valuable seconds of rest or time to counterattack.
Game modes
Bed Wars is a multiplayer game that can be played by up to 16 people.
Age Rating
age requirements: 12+
System requirements
Additional information (AND):
Internet connection is required.
Additional information (iOS):
Internet connection is required.