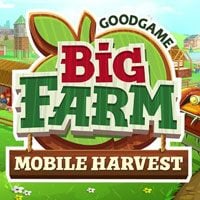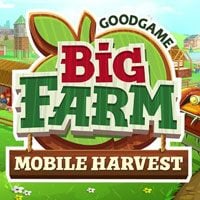 Big Farm: Mobile Harvest
Free economic strategy, in which we play the role of a new owner of a ruined farm. Our task is to restore its former glory. An additional attraction are numerous side tasks prepared by the artists.
Strategy | Economic | play for free | farm
German company Goodgame Studios became a part of the memory of some players with the app titled Empire: Four Kingdoms, which is the port of the browser strategy game Goodgame Empire. In the next installment - Big Farm: Mobile Harvest - the devs abandoned medieval setting in favor of playing as a farmer.
Story
As in other agricultural games such as the famous Harvest Moon series, in Big Farm: Mobile Harvest we play the role of a novice farmer, who unexpectedly receives a piece of land and a ruined farm. Our goal is to bring it to its former glory and to run a farmer's business.
Mechanics
Big Farm: Mobile Harvest is a relatively simple but not simplistic economic strategy. In the beginning, we have a small budget, which we spend on sowing the first field. Over time, we begin get the hang of things, thanks to which we can invest in more plants, animals, and buildings. Developers have prepared a lot of content. We can take care of the grain or vegetables, but nothing stands in the way of planting fruit trees or flowers. In addition, there is also the breeding of animals, e.g. cows for milk. However, they require special buildings and food. We can provide food on our own, using the cultivated plants.
There is a lot of work on the farm, especially in the latter stages of the game. Luckily, we can hire people to help us to look after animals or harvest crops. Unfortunately, nothing is for free, so they should be paid an appropriate sum - if we offer too little, the employee will not be satisfied and will perform their duties worse.
Taking care of our farm is not everything Big Farm: Mobile Harvest has to offer. During the game we also take part in various tasks, e.g. we help local residents to organize a festival or solve a UFO mystery.
Game modes
In Big Farm: Mobile Harvest the fun takes place mainly in single-player mode, although some online elements are available. The players can cooperate with each other by exchanging goods or establishing richer relationships, running separate but complementary farms.
Other
The game is available in free-to-play model with microtransactions. They are optional as they only speed up some activities. Patient people do not have to spend any money. In addition, the game requires an Internet connection.
Game mode: single / multiplayer Multiplayer mode: Internet
App size:
Age restrictions Big Farm: Mobile Harvest: Good for all ages.
Big Farm: Mobile Harvest System requirements
Additional information:
Internet connection is required
Additional information:
Internet connection is required