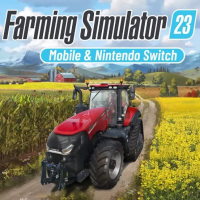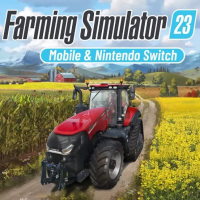 Farming Simulator 23
Another installment of the bestselling farming sim franchise originating from 2008. In Farming Simulator 23 we play as a farmer tasked with running our own farm. The available activities include fieldwork, animal husbandry and cutting down trees.
Farming Simulator 23 is, as the title suggests, a farming sim and the direct sequel to Farming Simulator 20 from 2019. Though it's largely based on mechanics introduced in Farming Simulator 22, it does feature some new additions of its own. The game was developed by GIANTS Software, the same studio responsible for the previous installments.
Mechanics
Farming Simulator 23 tasks us with managing and running a farm. We can devote ourselves to cultivating our land, focus on breeding animals, cut down trees or spread out across everything. The game takes place on two vast maps, Amberstone and Neubrunn, inspired by American and European terrain. As was the case in the series' ninth main installment, the game features a seasons cycle, letting the player watch these areas at different times of the year.
The player can make use of over a hundred different vehicles, machines and tools from such manufacturers as CLAAS, John Deere, Massey Ferguson or New Holland. One can also create production chains; as an example, it's possible to bake bread with flour made from self-harvested wheat, craft furniture with harvested wood or make clothes with wool sheared from our own sheep.
Speaking of animals - aside from the aforementioned sheep, players can also keep horses, pigs and chickens on their farms. As for the available crops - there are 14 types total, including new crops such as grapes, olives and sorghum. One must remember fieldwork isn't just sowing and harvesting, but also plowing and getting rid of weeds. In-between farming we can go for a walk, a horseback ride or look for collectibles.
The game also features an upgraded tutorial and AI support, as well as auto-loading for logs and pallets.
Technical aspects
The visuals of Farming Simulator 23 don't differ much from the previous installments. The game looks decent overall, with detailed vehicles and machines being especially appealing.
Last updated on 26 February 2023
Game mode: single player
App size:
Age restrictions Farming Simulator 23: Good for all ages.