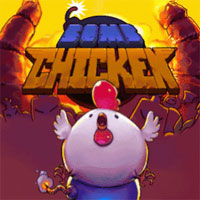 Bomb Chicken is a 2D platform game drawing heavily from classic titles such as Superfrog and Sonic the Hedgehog. The game was developed by the British studio Nitrome, which previously released games like Turn Undead and Silly Sausage in meat land.
Story
Due to a strange accident, a normal chicken becomes a superhero, who can lay bombs instead of eggs. The newly acquired power allows the protagonist the venture forth to adventure and learn the dark secrets of the fast-food corporation BFC (and in addition to answear the age-old question: which came first, the egg or the chicken?).
Mechanics
Bomb Chicken is a classic 2D platformer game. The action is presented from a side perspective, as in other side-scrolling games. The player has to complete levels by jumping, destroying obstacles, and defeating enemies (e.g. by jumping on their heads). The most original feature of the game is the unusual ability of the main character: laying bombs instead of eggs. This helps to deal with some of the enemies. It also allows to destroy barricades and reach places, which would be normally unavailable. The eggs (bombs) appear under the protagonist and can be used as platforms; this, of course, requires fast fingers, as the bombs explode after a short delay.
Technical aspects
Bomb Chicken features 2D retro stylized graphics. This means low res textures and visible pixels. Although the graphics are stylized the game isnít as primitive looking as some other retro-style games. Instead, the game aims for a perfect balance between old and new. The colors are warm and the art style bears some cartoonish features.
Age Rating
age requirements: everyone
System requirements
PC / Windows
Minimum: Intel Core 2 Duo, 256 MB RAM, graphic card Intel HD or better, 300 MB HDD, Windows XP SP2