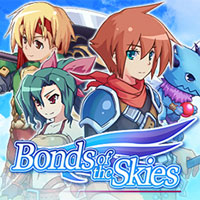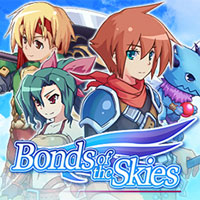 Bonds of the Skies
A typical representative of the jRPG subgenre. The player is taken to a fantasy world and takes on the role of Eil.
Bonds of the Skies
Release Date
Bonds of the Skies for 3DS is a typical jRPG developed by Hit-Point and published by Kemco.
Plot
The player is taken for a journey to a fantasy world ruled by gods known as Grimoa – they have kept the land in order. Unfortunately however, as the time went on, the people began to forget their caregivers and gave them less and less worship. The player meets Eil, the protagonist, when his hometown falls victim to an attack from a fiery demon. In order to save those closest to him, the protagonist decides to accept assistance from a god of the air – Nogard. Eil takes the responsibility of locating the great enemy, but also finding the remaining gods in order to face the powerful opponent with their help. Fortunately, Eil and his divine companion will not be having a lonely trip, as other daredevils join them along the way.
Mechanics
Bonds of the Skies for 3DS is based on a formula typical for the classic representatives of this genre. As a result, the action is viewed from a camera suspended high above the character; the journey involves mainly exploring diverse locations and completing both story and side quests, which grant the player access to useful pieces of equipment. Subsequent quests are taken from statues of gods, which can be found in towns; having made a sacrifice at the feet of these statues, the player can also replenish supplies, get equipped with better weapons or craft items based on recipes found while adventuring.
Fighting enemies is also an important part of the game. Combat is turn-based here and fighting takes place on separate maps; success can be achieved through juggling the characters' abilities skillfully (above all, one will find here powerful abilities offered by the particular Grimoa – those are available once a special meter has been filled) and placing the team-members appropriately. Interestingly, the distance between an enemy and a character influences the amount of damage the player deals.
Technical aspects
The two-dimensional visuals in Bonds of the Skies for 3DS are presented in a pixel-art style that brings 8-bit and 16-bit classics of the genre into mind. The same applies to the soundtrack, which accompanies the whole experience.
Game mode: single player
Age restrictions Bonds of the Skies: Good for all ages.
Bonds of the Skies System requirements
Minimum:
Intel Core i3
4 GB RAM
graphic card 2 GB GeForce GTX 660 or better
400 MB HDD
Windows 7