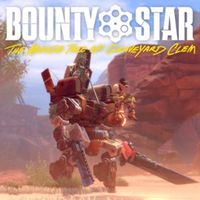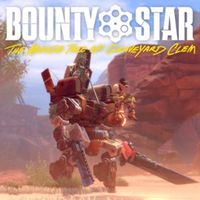 Bounty Star
A TPP action adventure game in which we find ourselves in a post-apocalyptic land, where we hunt down bandits and monsters prowling the area. In Bounty Star we play the operator of a powerful mecha, which wreaks havoc on the ranks of enemies with the help of various weapons.
Action | TPP | Post Apocalypse | sandbox | Mechs and Robots | action adventure
Bounty Star is an action adventure game with farming and survival elements. It was developed by Dinogod studio, and was published by Annapurna Interactive.
Plot
Bounty Star takes us on a journey to a post-apocalyptic world, to be precise - to a land called the Red Landless, inspired by the South of the Wild West. The game's main character is Clem, a war veteran who ended up here to escape from guilt and shame. With her powerful mech at her disposal, the protagonist tries to deal with her own past, while making Red Sansmire a slightly friendlier place.
Game mechanics
In Bounty Star, we observe the action from a third-person perspective (TPP). The game offers us a vast open world, through which we can move freely. The driving force of the game is the tasks commissioned by the local authorities (or rather, what's left of them). Clem earns his living by hunting down bandits and various beasts that prowl the area.
As is not hard to guess, such a lifestyle involves frequent fighting with opponents. Fortunately, the Desert Raptor MKII, as this is the name of the heroine's mech, is not only an excellent means of locomotion, but also a real killing machine, the armament of which we can adjust to our own needs. During dynamic clashes we can use melee weapons, make use of hydraulic siege weapons, and wreak havoc in the ranks of enemies with firearms. Besides, the machine's combat potential is enhanced by a variety of systems and useful add-ons - from shields to jet engines to afterburners.
In breaks from hunting monsters and bandits, it's worth taking a few moments to take care of your garage. It serves as our base of operations, and while it's heavily neglected at first, over time it should start to shine. We can hook up water and electricity to it, cultivate the land around it and harvest crops, build animal pens near it, and equip it with workshops to produce ammunition and fuel.
Technical aspects
Graphics in Bounty Star game is made in a colorful, cartoonish style. We can listen to soundtrack composed by Brother Dege.
Game mode: single player
Age restrictions Bounty Star: 16+