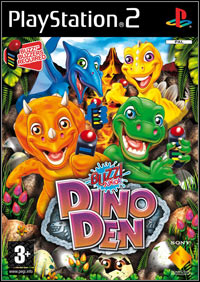 Buzz! Junior: Dino Den
PS2
Buzz! Junior: Dino Den is a simple game for the whole family. This is the fourth part of the series addressed to the youngest, which exercises team playing skills and imagination, while offering a large dose of entertainment.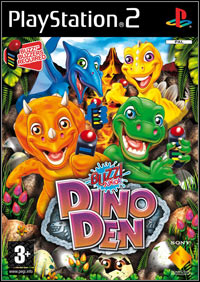 Game mode: single / multiplayer
Multiplayer mode: common screen, players: 1-4

game language: English
game release date for PS2:
22February2008
Set in the prehistoric time of the dinosaurs, players find themselves in a land of volcanoes, geysers and festering mud pools - ideal for a refreshing dino bath! There are a mammoth 35 multiplayer games for the four cheeky playable Dinos to get their claws into including stone age go-kart racing, T-Rex riding and caveman dunking. Players compete for Dino eggs and the Dino with the biggest egg collection at the end is crowned king of the Dinos.
Buzz! Junior: Dino Den is the fourth title in the critically-acclaimed Buzz! Junior series and features lots of exciting ways to play, including the brand new Team mode where players can join forces to compete in 10 unique 2vs2 team games. Players can also compete in every-Dino-for-themselves action as the Dinos work their way over treacherous lava rivers, frozen lakes and muddy pools.
Suitable for up to four people, gameplay will be similar to the three previous Buzz! Junior titles - because it's a winning formula - and the titles will sit on shelves side-by-side. Players choose how long they wish to play and then compete in successive rounds to determine a winner. Buzz! Junior: Dino Den lets kids compete against each other or, if there isn't a full herd of Dinos to play with, use the advanced Tribal Dino AI to take control – meaning there's always a full team of Dino friends around!
This hilarious new title is firmly focused on delivering the fun and side-splitting humour, with no content that could be deemed scary for this young target audience of 6 - 10 year old boys & girls. It guarantees entertainment for the whole family as they come together over the course of a series of colourful and wacky Dino challenges. The mini games have been designed to encourage competitiveness and room interaction.
KEY FEATURES
* 1-4 player buzzer-bashing fun
* 2 or 4 player co-operative mayhem in the all new 2vs2 Team mode
* 25 great new multiplayer mini games and 10 all new 2vs2 Team mini-games
* 'Tribal Dino' advanced AI enhances gameplay when playing with less than 4 human players
* Increased localisation for the younger market

Game score 7.9 / 10 calculated out of 31 players' votes.
Similar games:
PEGI Rating
System requirements
Sony PlayStation 2
Uses: memory card 8MB