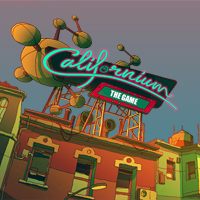 game language: English
game release date for PC:
17February2016
Californium for PC is a first person adventure game set in a science-fiction world. It was inspired by the biography of Philip K. Dick, one of the finest American sci-fi writers. The game is the effect of cooperation among three subjects - Darjeeling and Nova Production French studios, and ARTE, a French-German TV station.
Story
Among the inspiration sources mentioned by the creators themselves, there are Philip K. Dick's novels and stories such as The Man in the High Castle, Do Androids Dream of Electric Sheep?, A Scanner Darkly and We Can Remember It For You Wholesale. On the basis of these, also classic sci-fi films were made - Blade Runner and Total Recall. However, the biggest inspiration behind the game is the biography of the writer, who struggled with addictions to drugs and alcohol during his career. He was even suspected of insanity.
The story in Californium for PC is set in 1967. The player takes control over a miserable writer called Elvin Green. His wife, Thea, leaves him and he loses his publisher Teddy. On top of that, finishing his debut novel turns out to be quite a challenge. When his psyche deteriorates, the protagonist gets trapped in the loop of alcohol and drugs. With nothing to lose, he finds himself on a slippery slope. He discovers a passage to an alternative reality called Theta. This event changes the protagonist's life and the way he perceives reality for ever.
Gameplay
In Californium for PC, the player perceives the game world through the eyes of the protagonist. The gameplay mechanics are typical for an adventure game - the player explores the environment in search for different items required to progress in the story. However, the game does stand out with its sequences of travelling to alternative realities, where the protagonist can find items that help him solve his real-life problems. Alongside this, all the substories and clues refer vividly to the biography of Philip K. Dick and the problems and obsessions he struggled with.
Technical aspects
The game aims to depict journeying through one's mind under the influence of drugs, so the visuals are sharp. The graphics are colorful and based on contrasts. The virtual world is exaggerated to an increased degree in terms of its design, depicting a grotesque vision of the world. The person responsible for the graphic stylistics of the game is a French artist by the name of Olivier Bonhomme, formerly working with Le Monde and Washington Post dailies. He also created comic strips and numerous disc covers.
Age Rating
age requirements: 16+
System requirements
PC / Windows
Minimum: Intel Core i3 2.00 GHz, 4 GB RAM, 2 GB HDD, Windows 7