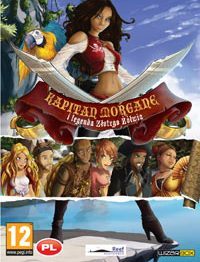 Captain Morgane and the Golden Turtle
An adventure game that refers to So Blonde. We play the role of Captain Morgane on her first independent and dangerous journey. This time we visit five different islands and return to several locations known from previous adventures.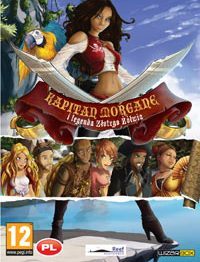 The 17th Century Caribbean – beautiful, seductive and dangerous.
A place where pirates roamed the seas looking for treasure, and where one innocent 8 year old girl grew up to become the most famous Pirate of the Caribbean! From an early age, Morgane Castillo was a confident and feisty girl, playing with her friends and getting into scraps on Bounty Island. Living with her mother and bored of her chores and island life, she longed to go to sea, just like her pirate father Alessandro! But she was too young and young girls weren't meant to become pirates. But Morgane's early life was beset by tragedy. Uncle Eduardo, her dearest friend, was lost at sea and her mother, Bonita Castillo, died suddenly when Morgane was only 8 years old.
Devastated by the loss of his wife, Alessandro takes Morgane away from Bounty Island to accompany him on his pirate travels throughout the Caribbean. He loves his young daughter and wants to protect her from danger. However, he soon realises that he won't be around forever, and so decides to teach Morgane his pirate ways. On her 17th birthday, Alessandro instructs Morgane to round up a new crew for the ship, search for a suitable cargo to transport and take full responsibility for the voyage - her first taste of being a pirate captain! Morgane searches the bars and taverns locating crew and finds a wealthy merchant called Thomas Briscoe who wishes to hire Morgane's ship to hunt for a mysterious treasure – the Golden Turtle. But in her search, Morgane also learns that Uncle Eduardo is alive and living on Turtle Island! Now, the race is on to follow the clues, avoid her enemies and find the elusive Golden Turtle treasure and Uncle Eduardo!
Accompany Morgane in her quest to find the legendary Golden Turtle and experience the story of a young girl who grows into a pirate captain! Make decisions, but remember - your actions have direct consequences for those depending on you. Your journey will take you across 5 different islands and you will interact with 40 characters that can help you - or not! Explore over 50 heavenly and beautiful locations in glorious 1080p HD (Sony PS3 & PC) and discover the truth behind the most important secrets in the Caribbean! What is the truth behind the legend of the Golden Turtle? Why is your intriguing merchant client - the fabulously rich Thomas Briscoe - desperately looking for it? Could it be possible that Uncle Eduardo came back from certain death after being lost at sea? And most of all, are your shoulders broad enough to bear the responsibility of being the Captain of your very own pirate ship? The answers to these questions now depend on you...
Written by Steve Ince, award winning writer of adventure game Broken Sword, Captain Morgane and the Golden Turtle is a spin-off from the smash-hit adventure game So Blonde.
Developed by leading adventure game studio Wizarbox and published by Reef Entertainment, this 'Point & Click' adventure game leads the way in immersive story-telling at its finest; with fun character development, puzzles, mini-games, the utilisation of the PlayStation MoveTM and Nintendo controllers coupled with 'Disney-style' environments which places the player directly into the Caribbean in true 1080p High Definition!
Features include:
• A colourful and accessible Point-and-Click adventure
• Uses specific controllers for every platform (Stylus, PlayStation MoveTM, Nintendo controllers)
• A new hero to develop and storyline to immerse into, providing over 12 hours of gameplay
• A semi-open world set across 5 islands
• 40 unique characters split over 50 beautiful locations
• 6 new mini-games and dozens of new puzzles
• Story by award winning writer Steve Ince
• PS3 & PC: Full 1080p HD
PEGI Rating
System requirements
Recommended:
Pentium IV 2 GHz
512 MB RAM (1 GB RAM - Vista/7)
graphic card 128 MB (GeForce 5700 or better)
3 GB HDD
Windows XP/Vista/7