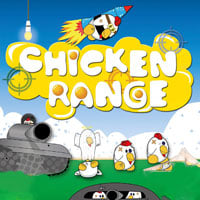 Chicken Range
Chicken Range is a fun action game, in which the players eliminate endless hordes of chickens using all sorts of weapons.
Arcade | 2D | rail shooter | humorous | shooters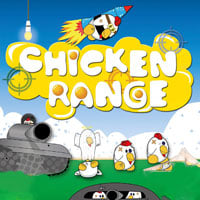 Chicken Range is a ridiculous skill-based game, in which the players have to eliminate hordes of chickens spawning on the screen. The game was developed by Funbox Media.
Mechanics
The game revolves around shooting birds that show up on the screen. Every fallen chicken is replaced by another. In the later stages of the game, the chickens are better and better equipped: they can have armor, which makes it more difficult to damage them; they can also throw eggs at the player controlled character, which obstruct the field of vision. It is important to note that the game arena is much larger than what we see on a single screen, this incentivizes the player to move sideways in search of new targets. Ammunition is a limited resource, boxes containing it fall from the sky, but it is also possible to buy more in a special shop. Funbox Media's game offers several different levels and weapons.
Technical aspects
Chicken Range features simple, colorful graphics. The art style employed may arouse associations with kids' animated TV shows.
Similar games:
PEGI Rating