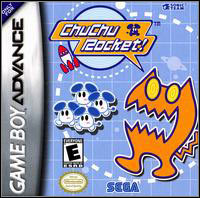 ChuChu Rocket!
GBA
ChuChu Rocket! is a logical game that was originally released on the stationary Dreamcast platform. After nearly two years, Sega Corporation moved its work to the pocket world of Game Boy Advance console.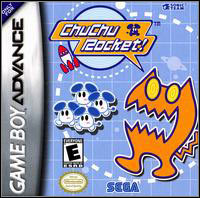 Game mode: single / multiplayer

game language: English
game release date for GBA:
10June2001
Sega's first online title, ChuChu Rocket!, is once again a pioneer as Sega's first multi-platform game. ChuChu Rocket! for Game Boy Advance has tons of new puzzles and gameplay features, and you can still play against three of your friends. In this addictive Sonic Team puzzler, you've got to keep those big hungry cats away from the ChuChus (mice). Follow the arrows and direct the frantic little creatures into your rocket and you'll rack up big points. If you manage to keep the ferocious felines at bay, your rocket will take to the skies as the winner! But all will be lost if one of cats infiltrates your great space ship.
* Frantic action for up to 4 people using one cartridge and the Game Boy Advance Link Cable.
* Create your own characters and puzzles, and then trade them.
* Over 2500 unique puzzle boards will keep you occupied indefinitely.
* Team Battle, Stage Challenge, 4P Battle, and Puzzle Modes.
* New gameplay features like Night Time, Blindfold the Leader, 4P Battle Roulette, and more.
Similar games:
PEGI Rating
System requirements
Uses: link-cable + additionally (GBA): link-cable