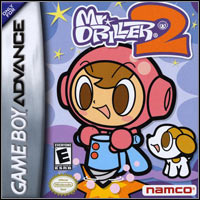 Mr. Driller 2
GBA
Mr. Driller 2 is a sequel to Mr. Driller and a continuation of the series, known from various consoles (apart from GBA also Dreamcast and PlayStation). This is a game of the genre of logical-skillful puzzles (another variation on Tetris).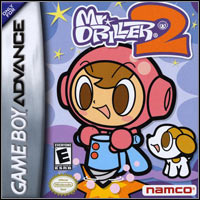 Game mode: single / multiplayer

game language: English
game release date for GBA:
10April2005
The world is being overrun by colored blocks, which are coming from deep underground! Entire countries are completely covered by these blocks, including India, America and Egypt. Looks like a job for the planet's premiere perforator: Mr. DRILLER! A colorful, fast-paced puzzle game, Mr. DRILLER 2 for Game Boy Advance™ is easy to learn and impossible to put down!
* Three modes of play - Test your drill skills in Mission Driller, Endless Driller or Time Attack Driller scenarios.
* Meet the competition - Anna Hottenmeyer is the new driller in town. She's bursting with attitude and determined to show Mr.DRILLER just who the real hero is.
* Go head-to-head in 2P DRILLER - Play against your friends by connecting two Game Boy Advance™ consoles using a Game Boy Advance™ Game Link™ cable.
PEGI Rating
System requirements
Game Boy Advance
Uses: link-cable + additionally (GBA): link-cable