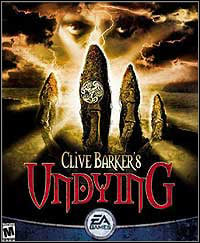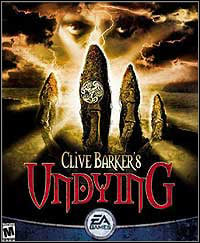 Clive Barker's Undying
PC
Action game FPP maintained in the convention of horror, to which the script was written by the master of the genre Clive Barker himself. As an occult Patrick Galloway, the player must discover the mystery of the Covenant family's curse.
Clive Barker's Undying

Release Date PC

21February2001
developer: DreamWorks Interactive publisher: Electronic Arts Inc. Official website

game language: English
Clive Barker's Undying brings players into a world of arcane magic, supernatural abominations and ancient horror.
Set in Ireland of the 1920's, players take on the role of Patrick Galloway, who has been summoned to an ancestral estate by its lone descendent Jeremiah. Death has claimed his four siblings, each who have reanimated intent on slaying their living brother, the last of the family, so as to free the Curse of the Undying King.
In order to save his friend and unravel the curse that has befallen Jeremiah's family, Patrick must embark on five perilous quests before he can unearth the final horror of the estate.
Each quest brings Patrick face-to-face with one of Jeremiah's undead siblings and the strange and wicked creatures the curse has attracted. In addition, Patrick must triumph over his reviled competitor Kiesinger. If there is power to be had by unearthing the mystery of the estate then Kiesinger will try and steal it - and there is much power to be had. It's up to Patrick to defeat each of Jeremiah's siblings and vanquish Kiesinger in order to quell the Undying King.
Clive Barker's Undying marks the first interactive project from the famed British author, illustrator, director and playwright. Considered by many to be one of the best storytellers of our times, ideas sprung from Barker's imagination often embrace horrific themes. Barker has published eight novels, his most recent the acclaimed Galilee and nine anthologies including The Book of Blood series. Barker has also served as screenwriter, director, executive producer and/or actor on 15 motion pictures including the Academy-Award winning Gods and Monsters, and the seminal Hellraiser, which he directed and adapted from his own story The Hellbound Heart.
Clive Barker's Undying will have a similar horrific ambiance consistently found in all his works. The situations and creatures encountered in Undying will be creatively deadly and demand
players use their wits and caution, as well as imaginative weapons and spells.
Key Features:
Ten areas that the gamer will visit throughout the game. They include the estate, a destroyed monastery, ring of standing stones, cursed city of Oneiros, the Pirate's Cove, the Eternal Autumn and Neolithic caves.
Five horrifying boss characters, including four based on Jeremiah's dead siblings. Players will have to defeat each of the evil siblings in their individually cursed and demonic environments in order to confront the Curse of the Undying King.
Eight spells including the destructive Skull Storm.
Eight weapons including shotgun, Molotov Cocktails, Tibetan War Cannon and Scythe of The Celt.
Over 20 enemies including Drinen, Howlers, Verago, Hounds of Gel'ziabar, Sleeds and Monto'-Shonoi.
Special modes will include the ability to fly in the spirit worlds and a spell called Scrye that allows players to see or hear events that are not apparent to the naked eye to provide back story and clues.
Affecting sound that is actually a vital tool to staying alive, since it may be the only attestation a creature may be near you.
Game will use the Unreal Tournament engine that has been highly modified.
Soundtrack of Celtic-inspired spiritual tracks.
Game mode: single player
Media type: 1 CD
User score: 8,3 / 10 based on 880 votes.
PEGI rating Clive Barker's Undying
Clive Barker's Undying System requirements
Recommended:
Pentium II 300MHz
64MB RAM
graphic card