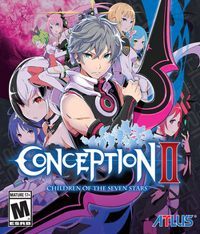 Conception II: Children of the Seven Stars
The second installment in a series of jRPGs enriched with elements typical for visual novels and dungeon crawlers. This time, the player assumes the role of a chosen character (several available) and their goal is to defeat the monsters lurking in the Pandora Labyrinth.
RPG | TPP | fantasy | science fiction | turn-based | dungeon-crawler | visual novel | jRPG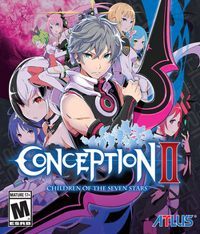 Conception II: Children of the Seven Stars, available on PC, 3DS and PSV, is a jRPG in which players fight in randomly generated 3D undergrounds with their created star children - magical helpers, created by combining the protagonist's soul and NPC heroines. The title is the sequel to the first installment of the series, Conception: Please Give Birth to My Child! which was released on the PSP in 2012. Both productions were created by the Japanese studio Spike Chunsoft, which was officially founded in 2012.
Plot
The hero of Conception II is one of several selected people who have the special gift of summoning star children so that he is able to fight the plague of monsters, the source of which is the Labyrinth of Pandora. The protagonist goes to an academy that trains and supervises people like him. His task is simple - together with seven of his classmates, he has to face the dangers lurking in the labyrinth. Using a special machine he is able to create star children, magical beings who fight at the side of their "parents".
Mechanics
The gameplay model very much resembles the latest entries of the Persona series, well known to fans of the genre. The game is divided into several modes. The first one resembles a traditional visual novel adventure. Players can interact with each of the seven friends and get to know them better by dating. We also give our friends accessories and gifts.
Another mode is a rather traditional dungeon crawler with turn-based combat. We observe the action from the third-person perspective, traverse randomly generated undergrounds, going deeper and deeper into the Labyrinth of Pandora. Enemies are visible on the screen, so we can avoid them or try to attack them by surprise. Most enemies are susceptible to a particular type of attack, which we can use to our advantage. During the battles, we are accompanied by one heroine and a few star children - their statistics are influenced by the degree of intimacy with a given partner and her skills. In addition, in the city, we can equip ourselves with better equipment, and send children to look for the items we need.
PEGI Rating
System requirements
Minimum: Intel Core i3-530 2.93 GHz, 4 GB RAM, graphic card 1 GB GeForce GTX 650/Radeon HD 7700 or better, 8 GB HDD, Windows 7
Recommended: Intel Core i5-3570K 3.40 GHz, 8 GB RAM, graphic card 1 GB GeForce GTX 650/Radeon HD 7700 or better, 8 GB HDD, Windows 7