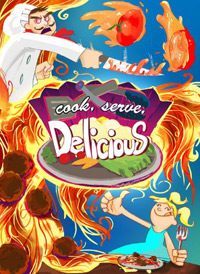 Cook, Serve, Delicious!
Cook, Serve, Delicious! is a demanding arcade game with elements of strategic production. The player's task is to run a catering point located in a high skyscraper. Success depends on well-thought-out planning of the next working days and effective customer service.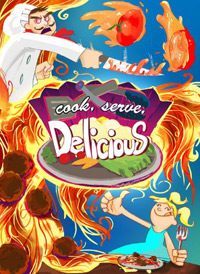 Cook, Serve, Delicious! is a challenging arcade game, where the player's goal is to run and expand a catering facility. The title was developed by Vertigo Gaming, a small US company specializing in arcade games.
Mechanics
In Cook, Serve, Delicious!, the player's task is to manage a restaurant and play the role of chef, cashier and cleaner all at the same time. The adventure begins in a small gastronomic outlet, and the meals that can be served to customers are not complicated (e.g. hot dogs, chips). With the development of the company, the place becomes more elegant and the choice of dishes and customers' requirements grows.
The game combines arcade and strategic elements. In the first phase, the player makes strategic decisions - such as which meals will be sold the next day or how to improve the restaurant (you can buy various equipment, such as a dishwasher). Then comes the working day - the arcade part. The player's task is to serve customers in a fast and satisfactory way. It boils down to pressing many keys (each dish has its own combination), and failure results in the customer's dissatisfaction. The lunch period is particularly demanding when many customers appear in the restaurant at the same time (initially it is possible to serve four customers at once, then this number grows to eight). At the end of each day, financial results are summed up and the cash earned should be used for further development of the restaurant.
The strategic element of the game has been enriched with additional difficulties. Each dish has a number of features (e.g. sweet, with alcohol, smelly, healthy, etc.), the combination of which can attract or deter customers, so when choosing meals for the menu, you have to pay attention to whether or not they fit together. Consumer preferences are also influenced by circumstances, such as rainy weather, when demand for specific types of food increases. There are also many random accidents that the player has to deal with, including robbery and quality control inspection.
Technical aspects
The graphics in Cook, Serve, Delicious! are kept in a cartoon style and, despite its simplicity, they look nice. An interesting solution is the ability to receive e-mails - between important messages (e.g. about upcoming inspection) there is a lot of funny spam, which was created by fans of the game.
Similar games:
Age Rating
age requirements: everyone
System requirements
PC / Windows
Recommended: Pentium 4 2 GHz, 2 GB RAM, graphic card 128 MB (GeForce 5900 Ultra or better), 150 MB HDD, Windows XP/Vista/7/8