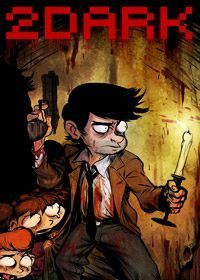 2Dark for PC, PS4 and XONE is a 2.5D survival horror game played from a top–down view. Both the game world and characters here were made of voxels. The game was created by Gloomywood – an independent French studio established in 2014; the works were supervised by Frederick Raynal, a gamemaker who created Alone in the Dark (1992).
Plot
The player assumes the role of Mr. Smith, a criminologist. Seventeen years ago, his wife was brutally murdered and the children were kidnapped by unknown assilants. Since then, the man has searched for his children and the murderers, hunting down subsequent serial killers who take the underaged as their targets.
Mechanics
The player supports the protagonist in his struggle, visiting hideouts of different criminals. Smith has to explore basements and other dark places filled with traps and crazies. Along the way, the player gathers different items that help to avoid threats or to deal with them – light sources, keys, fuel, guns, ammunition, etc. The player will also find notes, newspaper clippings and other "collectibles" that make it easier to understand the motivations behind the killings and obductions.
However, dealing with bloodthirsty psychopaths is not the most important aspect of gameplay – the game focuses instead on saving possible victims. In different corners of the in-game locations, the player stumbles on children waiting for help. Once such innocents are located, they join the protagonist – this leads gradually to a long group of kids tailing Smith. The protagonist can command the children either to stay quiet or follow him, but taking care of them is not easy. Each child has their own, individual behaviour, thus the "littl'uns" can get overly talkative, timid or unwilling to cooperate for example. Creating too much noise is not safe, because the enemies are quite vigilant. In order for the player to be aware of the surroundings, the creators decided to visualize sound waves through displaying blue circles around sources of sound.
Between the levels set in hideouts belonging to different psychopaths, the player visits the office of the protagonist. Interacting with mundane objects here and making links between pieces of evidence, the player gets to know the whereabouts of subsequent murderers. Apart from solving the mystery behind the murders and obductions, the player fights to score as many points as possible. When the player manages to save many children and get them out of the danger zone safely (this applies also to the protagonist), they can expect a score bonus.
Technical aspects
As mentioned, 2Dark for PC, PS4 and XONE makes use of voxels, which results in a retro style present. Nonetheless, the creators implemented certain up–to–date technologies as well, such as dynamic lighting.
Similar games:
PEGI Rating
System requirements
PC / Windows
Recommended: Intel Core i3-4130 3.2 GHz, 2 GB RAM, graphic card 1 GB GeForce GTX 750/Radeon R7 260X or better, 1 GB HDD, Windows 10 64-bit
Minimum: Intel Core i3-530 2.93 GHz, 2 GB RAM, graphic card 512 MB GeForce GT 9800/Radeon HD 4870 or better, 1 GB HDD, Windows 7