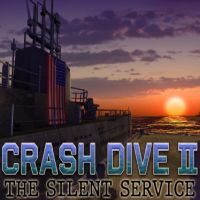 Crash Dive 2
Sequel to Crash Dive released in 2014 by Panic Ensues Software studio. Steering an American submarine during World War II, we are tasked with patrolling the South Pacific and getting rid of enemy ships.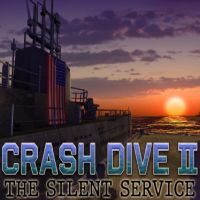 Crash Dive 2 is the sequel to Crash Dive released in 2014 by Panic Ensues Software studio. The game is a submarine simulator set during the Second World War. In the first part we sat behind the steering wheel of a German U-Boat. In the sequel, however, we find ourselves on the other side of the barricade, steering an American ship in the South Pacific.
Mechanics
The gameplay is all about patrolling the waters of the Pacific and completing assigned missions, including destroying enemy buildings and sinking convoys. The game mixes arcade and simulation elements to provide a deep but accessible experience. The interface is expansive and includes a lot of information such as hull integrity, submersion level, ammunition in the cannons and oxygen levels. As in the first part, the damage received affects the unit's performance. Under the heavy gunfire we can lose crew members or important parts of our ship.
The game allows to use various strategies. We can stay underwater and suddenly sink enemy transport ships using torpedoes or engage in duels with other ships using our cannons. The day and night cycle and changing weather conditions affect the visibility of our boat, helping us to operate from a hidden position. We will also often have the opportunity to destroy enemy aircraft using anti-aircraft guns.
Some high-level gameplay elements can be automated to simplify gameplay. Players interested in arcade-style gameplay can give the AI control over crew, repairing damage and upgrading the ship. If you want a realistic simulation, you can control the entire ship yourself.
Game modes
Crash Dive 2 only allows for solo play. The single player campaign consists of ten patrols, each of which takes us to a different region of the Pacific. The game also includes a random mission generator so that we can continue the game after completing it.
Technical aspects
The graphic design of the game is quite simple, which is not surprising as the game was also released on phones. Most impressive are the detailed ships, fire effects and explosions.
Age Rating
age requirements: 12+
System requirements
Minimum:
Intel Core i3
4 GB RAM
graphic card Intel HD 3000 or better
300 MB HDD
Windows 7 SP 1