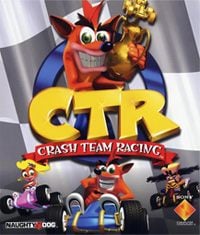 CTR: Crash Team Racing
Digital reissue of the fourth game about the adventures of the nice mutant Crash. Unlike the previous parts of the cycle, which were three-dimensional platforms, this time we are dealing with crazy go-kart races. Crash's and Dr.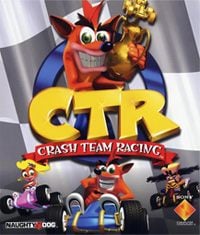 Game mode: single / multiplayer
Multiplayer mode: split screen, players: 1 - 4
Originally released on the PlayStation in 1999, the game is only available in digital form as part of PSOne Classics.
CTR: Crash Team Racing is the next installment of the popular Crash series, launched in 1996 by Naughty Dog studio. Unlike the previous parts of the cycle, which were three-dimensional platforms, this time we are dealing with a crazy racing game, in which behind the wheel of go-karts there are a whole plethora of characters from the universe of Crash Bandicoot.
Here is one of the best rally drivers in the universe known as Nitrous Oxide, who comes to Earth to challenge the drivers there. If there is no one who would be able to defeat him in a big race, the whole planet will be turned into a huge space car park, and the inhabitants into his obedient employees. Without thinking long, the glove is taken up by two racing teams, headed by Crash Bandicoot and his biggest rival, Dr. Neo Cortex.
A total of 14 characters, known from the previous games of the cycle, have been made available to players, some of which are available from the very beginning, while the rest of them will have to be unlocked during the game. The game can take place in several different modes, the most important of which is the Adventure feature mode. In addition, there will be Time Trial and Arcade races, as well as two variants of VS and Battle, designed for two people to have fun together. The driving model in the game is of course purely arcade, and the variety of the game are numerous bonuses and power-ups, collected during the ride by breaking the boxes marked with a question mark. Among the gadgets available in this way are self-guiding rockets, acid bottles, bombs and explosive crates, a warp ball, time manipulator, invisibility or shield.
Crash Team Racing is characterized by high quality graphics, and both the characters, as well as the routes and their surroundings are made in an extremely colorful, cartoon style. The different stages are quite varied, and during the next races we visit both sunny beaches and snow-covered mountains.
Please let us know if you have any comments or suggestions regarding this description.
Similar games:
Age Rating
age requirements: everyone
System requirements
Sony PlayStation 3
Uses: PlayStation Network
PlayStation Portable
Uses: PlayStation Network
PlayStation Vita
Uses: PlayStation Network