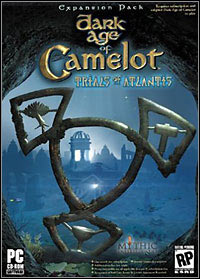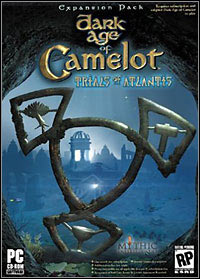 Dark Age of Camelot: Trials of Atlantis
PC
The second paid extension to MMOcRPG "Dark Age of Camelot". "Trials of Atlantis" expands the game world with a new land for high level characters - the sunken Atlantis.
This is Dark Age of Camelot expansion pack.
Dark Age of Camelot: Trials of Atlantis

Release Date PC

28October2003
developer: Mythic publisher: Electronic Arts Inc. Official website

game language: English
Remnants of the fabled lost civilization of Atlantis have been found…and it's up to the three Realms of the Dark Age of Camelot to rediscover the former magic and power left behind in the ruins.
But the quest will not be easy. The Atlanteans foresaw the collapse of their society. In anticipation, they built a series of Trials into the ruins of their civilization. The Realms of Hibernia, Midgard and Albion have each found a portal to the fabled land of Atlantis…an opportunity to explore its submerged dungeons and discover its underwater caves. However, they must traverse perilous ocean and confront terrifying monsters, both on land and undersea, to reap the benefits of this sunken world.
Dark Age of Camelot: Trials of Atlantis is an exciting new expansion pack for the award-winning MMORPG Dark Age of Camelot. Players will be able to explore the underwater lost civilization of Atlantis and enjoy many new features including:
- A significant graphical upgrade -- providing better visuals and performance including enhanced ground texturing and improved landscapes as well as enabling visually advanced underwater scenes
- A new user interface with more options for customization
- All new underwater areas, effects, dungeons, and exploration capabilities
- One new player race per realm
- Master Levels, a new advancement system that teaches your character new abilities, spells, combat styles, and much more
- A new Boat system for traveling on the ocean surface of the new Atlantis zones.
Game mode: massive online multiplayer Multiplayer mode: Internet Player counter: 1000+
Media type: 1 CD
User score: 8,1 / 10 based on 290 votes.
Age restrictions Dark Age of Camelot: Trials of Atlantis: 12+
Dark Age of Camelot: Trials of Atlantis System requirements
Recommended:
Pentium III 1 GHz
256MB RAM
32MB graphic card
Internet connection