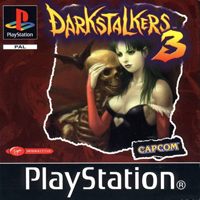 Darkstalkers 3
PS1
Third installment of a series of two-dimensional beats produced by Capcom. As in the previous parts of the series, the game presents duels between monsters of horror, legends and legends.
Fighting | fantasy | 2D | multiplayer | for 2 people | fighting game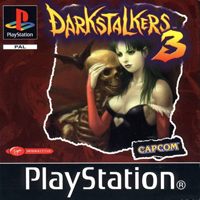 game language: English
game release date for PS1:
18November1998
Darkstalkers 3 (published in Japan as Vampire Savior: The Lord of Vampire) is the third installment of the popular series of 2D fighting games produced by Capcom, released in 1998 on PS1. This production was originally released on arcade machines in 1997 and then was ported to Sony PlayStation and Sega Saturn consoles. Like the previous parts of the series, the game focuses on duels between monsters inspired by classic legends and tales, such as vampires, werewolves, and mummies.
Plot
The background to the struggle between the warriors in Darkstalkers 3 are the actions of Jedah, a nobleman of the demonic Makai world, who is resurrected many years after his premature death. Discontented with the existing order, he decides to save his domain by building it anew. To achieve this, he creates a new place called Majigen, to which he summons souls worthy to live here.
Mechanics
The third installment of the Darkstalkers series introduces several important changes to a typical one-on-one duel scheme. The creators have abandoned the traditional division into rounds, where the health of the warriors is regenerated in each subsequent round. Instead, the opposing characters have two health bars each. When one of them is exhausted, the fight is interrupted for a moment. After a while, the duel is resumed, but the health level of the warriors isn't replenished as in other games of this genre. However, it is possible to restore a little bit of health if one of the players doesn't receive damage for a long period.
Another novelty introduced to the series is the "Dark Force System". It is represented by a bar that charges during the fight. When activated, it allows characters to perform unique attacks. The PlayStation version of the game breaks down the mechanics into two pre-fight variants - one standard, and the other, much more powerful, but with longer charging times.
Darkstalkers 3 has added four new characters: a dark savior of vampires Jedah, a young succubus Lilith, a hybrid of wasp and man Q-Bee and, a monster hunter B.B. Hood characterized by the appearance of the Red Riding Hood and a psychopathic mind.
Similar games:
Age Rating
age requirements: 16+